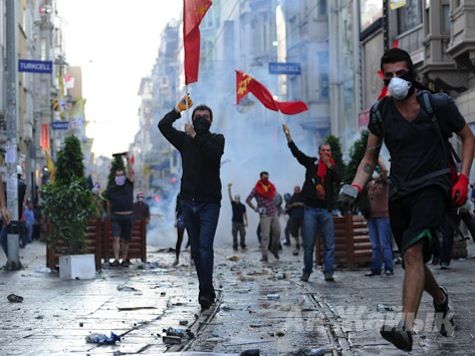 Photo:breitbart.comMembers of a leftist nationalist group in Turkey were recorded on video assaulting three US sailors in the capital of Istanbul. The US embassy has called the attacks by members of the Turkish Youth Union 'appalling.'
A group of Turkish nationalists attacked three American sailors on the streets of Istanbul Wednesday, attempting to pull hoods over the sailors' heads while chanting "Yankee go home."
The assault was caught on video and posted on the website of the nationalist Turkish Youth Union (TGB). It shows several dozen members of the group attacking the sailors on the Istanbul waterfront, throwing orange paint at the men, calling them "murderers," and yelling "down with US imperialism."
The attempt to force hoods onto the soldiers' heads was an apparent reference to an incident during the 2003 Iraq war in which US forces arrested members of a Turkish special forces unit in northern Iraq, pulling hoods over their heads and sending them away for interrogation.
"We want you to get lost and we are using our right to protest," the group allegedly told the sailors.
The Turkish Youth Union is a left-wing, anti-Western group that claims strict adherence to the principles of modern Turkey's secular founder Mustafa Kemal Ataturk.
Local media reported authorities had arrested 12 people in the wake of the assault. The United States condemned the attack, describing the video as "appalling."
"We find it ugly and disturbing. We condemn that attack," US military spokesman Colonel Steven Warren said at a media briefing in Washington.
"(We) have no doubt the vast majority of Turks would join us in rejecting an action that so disrespects Turkey's reputation for hospitality," the US Embassy in Turkey said in a statement posted on Twitter.
The attack on the sailors comes at a tricky time in US-Turkey relations. The United States has been pressuring Turkey, a NATO ally, for more support in its war against the "Islamic State" terror militia,which has conquered vast stretches of land in neighboring Syria and Iraq.
But Turkey has proved a somewhat reluctant ally in the campaign against IS, refusing to send troops to assist Kurdish forces that could have ties to the Kurdistan Workers Party (PKK), a group that has waged an armed 30-year campaign for Kurdish self rule in Turkey.
Anti-American sentiment runs high among certain segments of the Turkish population, increasing especially after the 2003 US invasion of Iraq. An October poll conducted by the Pew Research group found that only 19 percent of Turks view the United States favorably.
November 13 2014, 13:17