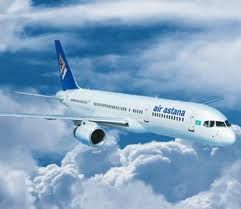 National carrier of Kazakhstan, Air Astana airline, plans to open a number of new regular flights soon, the press service of the airline told Trend, cihan reports.
In particular, planes of the airline will begin to implement the direct Astana-Bangkok flight in the middle of December 2014. In addition, it is planned to open an Astana-Paris flight in spring of 2015.

The aeronautical authorities of Kazakhstan and France agreed on the issue of opening an Astana- Paris flight last week, the press service said.

Also the plans of the airline for 2015 include the opening of an Astana-Dushanbe flight.

Air Astana is a joint venture of the Kazakh National Welfare Fund Samruk-Kazyna (51 percent) and the UK BAE Systems (49 percent). The planes of the airline started implementing regular flights in 2002, and currently operate flights on 60 international and domestic destinations. In 2013, the planes of the airline transported 3.7 million passengers.
November 12 2014, 14:58