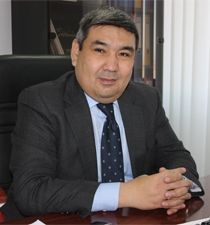 Arman KairdenovAtyrau Refinery external relations and information service circulated the press release about appointment of Arman KAIRDENOV, the new general director of the plant. Ex-director Talgat BAITAZIEV was released from the position according to his letter of resignation.
On November 21, at the plant's core group meeting, the new general director was presented by Mr. D. TIESOV, KazMunayGas vice-chairman of the board. In his speech, Tiesov noted Baitaziyev's fruitful 8 years of work at the plant and extended gratitude on behalf of KMG National Oil Company.
Kairdenov Arman Kurmetovich was born in 1971 in Atyrau. He is the graduate of the Kazakh chemical-technological university (1993) and the National Economy Academy under the Russian Federation Government (2003, dept of oil and gas).
He embarked upon a career at Atyrau Refinery in 1993 as ELOU-AT-2 unit operator. In 2006 – he left the plant from the position of the deputy head of capital construction to join KMG petro-chemistry department.
In 2008 he was transferred to KMG's subsidiary in Romania - Rompetrol Rafinare S A (refinery) as the deputy general director.
In 2010 he was appointed the general director of Rompetrol Rafinare S. A.
In 2012 he worked as the deputy general director of Rompetrol group of companies.
By Laura Suleimenova
November 21 2012, 20:28