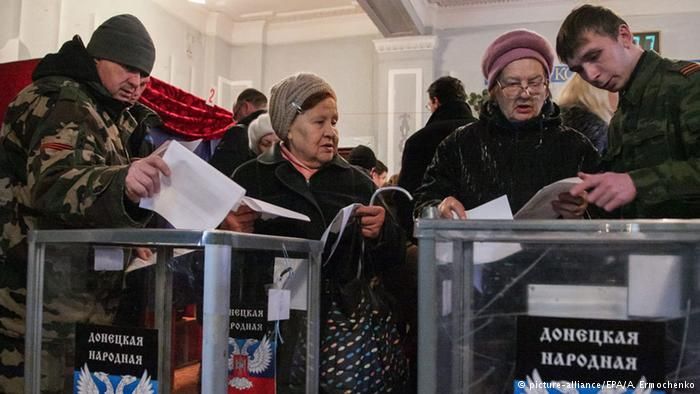 In defiance of the central government, voters went to the polls in Ukraine's Donbass region on Sunday to elect two separatist leaders. Kyiv and the West have pledged not to recognize the results of the election.
The European Union's new foreign policy chief condemned the elections of separatist leaders in eastern Ukraine on Sunday, saying the vote there would complicate the peace process in the war-torn country.
"I consider today's 'presidential and parliamentary' elections in Donetsk and Luhansk 'People's Republics' a new obstacle on the path towards peace in Ukraine. The vote is illegal and illegitimate, and the European Union will not recognize it," EU foreign policy chief Federica Mogherini said in a statement.
Two pro-Russian separatists were elected as leaders of the so-called Donetsk and Luhansk People's Republics in eastern Ukraine on Sunday. Alexander Zakharchenko, 38, who commands the rebels fighting Ukrainian security forces in Donetsk, was elected president in that self-proclaimed republic, while Igor Plotnitsky, 50, was elected president in nearby Luhansk.
Zakharchenko and Plotnitsky took 81 and 63 percent of the vote respectively, according to rebel election officials.
Kyiv and the West have said the elections are a violation of the Minsk agreements, the basis for a shaky ceasefire between the Ukrainian government and the separatists that has been in place since early September. The conflict in eastern Ukraine has killed more than 4,000 people, according to UN figures.
Mogherini said the Minsk agreements were "the legal and legitimate means of renewing the democratic mandate of the local authorities in these parts of Ukraine."
Ukrainian President Petro Poroshenko has offered special status and wide-ranging autonomy for the Donetsk and Luhansk regions, but insists that local elections must be held under Ukrainian law.
Russia approves
Poroshenko called the elections "a farce held under the barrel of tanks and guns by two terrorist organizations," and urged Russia not to recognize the vote.
But Moscow expressed its approval late Sunday, with the Russian Foreign Ministry saying that the voting in the separatist enclaves "respects the will of the people of southeast Ukraine," according to the Interfax news agency.
"The elected representatives received a mandate to solve the practical tasks regarding the restoration of normal life in the regions," the Foreign Ministry said.
Kyiv and the West have accused Russia of propping up the separatists in eastern Ukraine ever since fighting broke out last spring, after Russia's annexation of Crimea. Russia is the only country that has publicly promised to recognize the elections in Donbass.
November 3 2014, 11:20