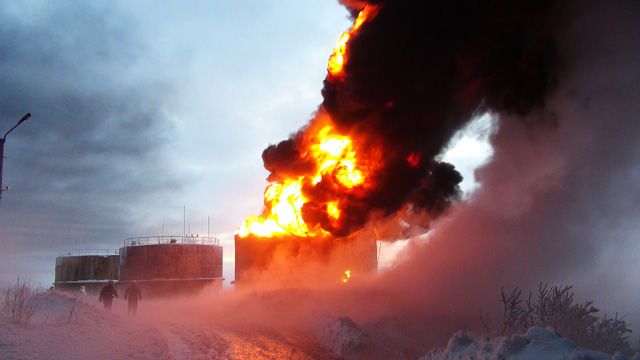 Repairs remain under way at Kazakhstan's 6-million tonne/year (tpy) Pavlodar refining and petrochemical complexfollowing a fire that broke out at the facility on Oct. 25, ogj.com reports.
The fire, which occurred at 6:40 a.m. local time in a furnace connected to the refinery's fluid catalytic cracking (FCC) unit, was extinguished by 10 a.m., with no injuries reported, according to the refining and marketing division of Kazakhstan's state-owned KazMunaiGaz (KMG).
Reconstruction and repair work on the impacted units are expected to last 20-25 days and will include the complete replacement of the furnace's internal structure, KMG said.
While the incident has resulted in a partial reduction in light oil production and an increase in straight-run fuel oil yields, other units in the complex have not been affected and continue to maintain normal production levels.
A commission has been established to identify the causes of the fire, with results of its findings scheduled to be released on Nov. 6.
One of three refineries in the country, the Pavlodar complex currently is undergoing a modernization and reconstruction project as part of Kazakhstan's 2010-14 investment plan to revamp the republic's refining sector.
Passed in October 2010, the Program for Development of Republic of Kazakhstan's Oil and Gas Sector for 2010-14 aims to boost the country's overall crude distillation capacity to 18.5 million tpy as well as improve the quality of oil products from its three refineries to meet Euro 4 and 5 environmental standards, according to KMG's latest annual report.
In late July 2013, KMG let a $1.1 billion contract to SC Rominserv SRL, a division of Romania's Rompetrol Group, to provide engineering, procurement, and construction for the Pavlodar modernization project, which was designed to boost the plant's crude processing capacity to 7 million tpy, according to a release from Rompetrol on Aug. 1, 2013.
A second phase of the project, which was to be evaluated in 2014 and due to be completed in 2018, would focus on improving both the yields and qualities of the refinery's petroleum product slate, Rompetrol said.
According to Rompetrol, the Pavlodar modernization program involves the revamp of ten of the plant's units, including its crude distillation unit, vacuum distillation unit, kero-hydrotreater, diesel hydrotreater, Merox unit, naphta hydrotreater, vacuum gas oil unit, FCC unit, catalytic reforming unit, as well as utilities, and offsites.
New installations to be built as part of the project include a Penex isomerisation unit, sulfur recovery unit, sour water stripper, amine regeneration unit, and diesel hydrotreating and dewaxing units, Rompetrol said.
October 31 2014, 09:29