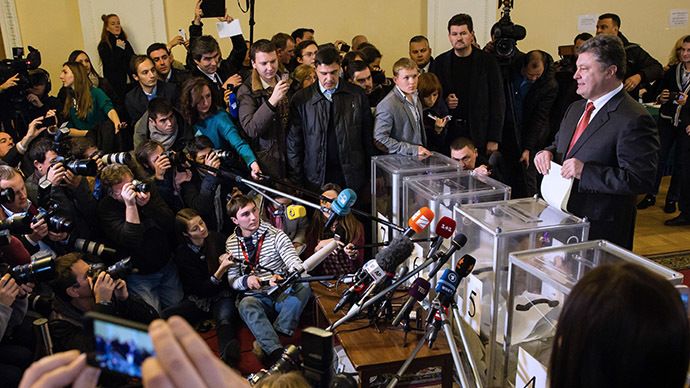 Ukrainian President Petro Poroshenko holds ballots at a polling station in Kiev (RIA Novosti)Exit polls indicate parties favoring a pro-Western direction have won the most votes in Ukraine's parliamentary elections. The biggest share was won by the party of Ukrainian President Petro Poroshenko.
The Poroshenko Bloc won approximately 23 percent of the votes in Sunday's elections, according to exit polls. The People's Front group of Prime Minister Arseniy Yatsenyuk was second, with about 21 percent.
"We can say today that a third of voters supports the president's course for carrying out reforms for entering the European Union," Yuriy Lutsenko, leader of the Poroshenko Bloc, told the Reuters news agency.
Although they lead separate parties, Poroshenko and Yatsenyuk have both had a pro-Western stance for Ukraine. A third pro-Europe party, the recently formed Samopomich Party, came third with about 14 percent of the vote.
The initial indications of the results, which only take into account party voting for half the seats in the 450-seat parliament (the other half is made up of constituency votes), are in line with pre-election expectationsthat a pro-Western parliament would be voted in with the aim of steering Ukraine away from Russian influence, in the first parliamentary election since the ouster of pro-Moscow president Viktor Yanukovych in February.
The Opposition Bloc, made up of associates of Yanukovych, came in fourth place, gaining about 8 percent of the vote.
The Fatherland party of former Prime Minister Yulia Tymoshenko also looks to have made the five-percent threshold to enter parliament, as do the nationalist Svoboda (Freedom) party and the populist Radical Party.
Some 36 million Ukrainians were registered to take part in Sunday's elections, but voting took place neither in Crimea, which was annexed in March by Russia, nor in parts of eastern Ukraine which have seen months of unrest between Ukrainian forces and armed pro-Russia separatists.
Preliminary official results are expected from Monday.
October 27 2014, 09:57