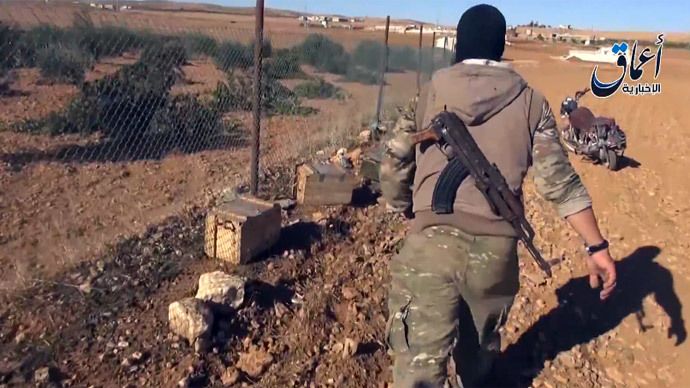 Screenshot from YouTube user A3maq News​Islamic State has published a new video in which a jihadist shows off brand-new American hardware, which was purportedly intended for the Kurds they are fighting in the Syrian border town of Kobani, rt.com reports.
The undated video, posted by the unofficial IS mouthpiece "a3maq news", sees a jihadist showing several boxes of munitions with English-language markings, with a parachute spread out on the ground beside.
Although it is unclear what was the bundle shown in the video, the militant explains that "this is some of the military equipment that was dropped by American forces."
On Sunday the US said that three of its Air Force C-130 planes successfully delivered 27 bundles of military and medical supplies, which it said were not from the US, but from Kurds in Iraq.
On Monday, however, the US Central Command admitted that originally there had been 28 deliveries, and a "stray bundle" had to be destroyed "to prevent these supplies falling into enemy hands."
The Syrian Observatory for Human Rights meanwhile said that the weapons dropped by the US may have ended up in the hands of the militants, AP reports. No independent verification has yet been made of the video showing munitions, hand grenades, and other weaponry.
Russia's UN envoy, Vitaly Churkin says that he is not surprised that IS has gotten their hands on a US air-drop.
Meanwhile Bashar Jaafari, Syrian envoy to the UN, told the news agency that while he could not confirm that IS has intercepted US weapons, Syria, he says was not notified of US arms drops.
The video itself caused quite a stir on the social media landscape with users"thanking"Washington for delivering the arms into the wrong hands, something the US has in the past vowed to avoid.
The US-led coalition has conducted over 135 air strikes against IS targets around Kobani, including 4 on Tuesday, this week was the first time Washington had delivered arms to Kurdish fighters via airdrop"intended to enable continued resistance against ISIL's attempts to overtake Kobani," said US Central Command.
The latest weapons claimed by the Islamic State militants will add to the vast arsenal of US weaponry that IS seized in Iraq in a sudden sweep in June. IS launched its offensive on Kobani on September 16 sparking a massive exodus of some 200,000 refugees into Turkey and worldwide protests of Kurds and their supporters.
October 22 2014, 10:08