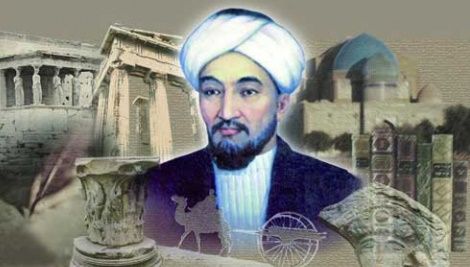 Scientist and great thinker Al-Farabi.A Kazakh historian has made a significant finding in Spain after being granted access to one of the libraries in the country, tengrinews reports.

Supported by the Committee of Science of Ministry of Education and Science, several Kazakhstanis scientists were allowed to access foreign archives, museums and libraries. The result was not long in coming.

The director of the Institute of Oriental Studies Absattar Derbisali found ten handwritten treatises of great al-Farabi in the museum of the Spanish municipality of El Escorial. During his ten days in the library Derbisali discovered the treatises in its collection of manuscripts. The treatises were written on calf skin.

Al-Farabi, who was born in the city of Farab located in present-day Kazakhstan, is better known in the West as Alpharabius. Widely regarded as one of the most prominent thinkers of the Islamic Golden Age, he was also a musician and cosmologists, and earned himself the title of "the Second Teacher", being surpassed in knowledge only by Aristotle.

He was well known both on the West and the East through his commentaries and treatises, one of which dealt specifically with Aristotelian philosophy and played a significant role in transferring the Greek philosophy to the Christian West of the Middle Ages.

Derbisali said that al-Farabi wrote about 100 treatises, but only a small portion was translated. In particular, Kazakh historians translated 10 tracts back in the 1960s. Encouraged by the recent discovery, Derbisali proposed reviving the Center for the Study of the works of al-Farabi in Kazakhstan.

The scientist came back from Europe not empty-handed. He brought both valuable archive information about Al-Farabi and also 40 kilograms of books, which the museum staff courteously presented him with.

October 17 2014, 15:57