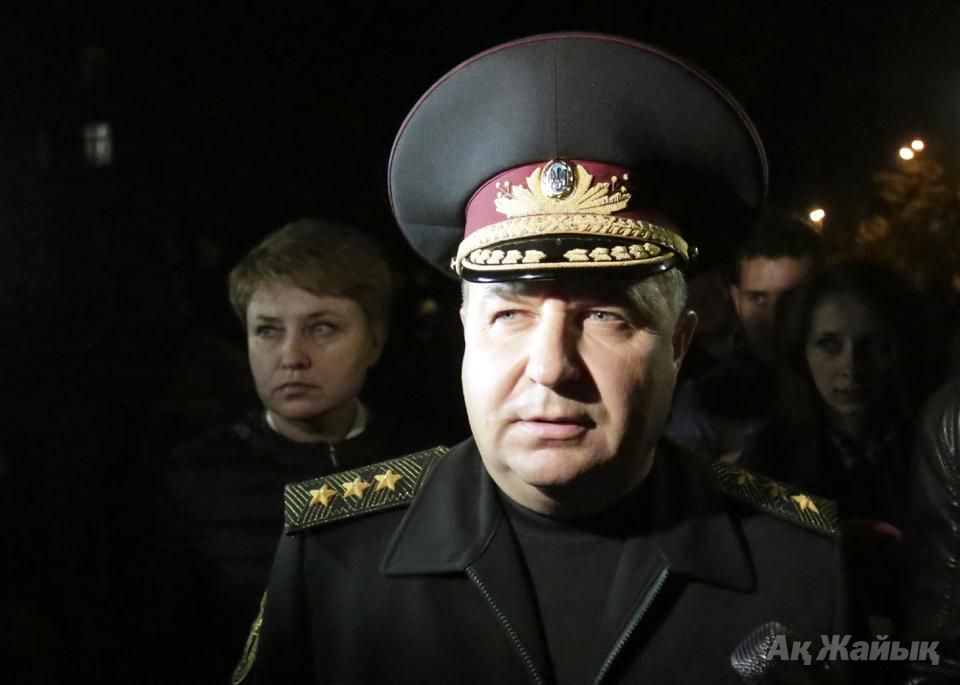 Stepan PoltorakUkraine's new defence minister vowed on Tuesday to build an army capable of withstanding Russia as sparks flew ahead of talks between Moscow and Washington over their worst standoff since the Cold War.
The high-stakes diplomacy comes after renewed bloodshed despite a tenuous truce, with indiscriminate shelling killing seven people in a funeral procession in the disputed southeastern port of Mariupol.
A sense of public disbelief and fury at the mounting death toll and the humiliating performance of Ukraine's once-proud armed forces has set the backdrop of a crucial general election at the end of the month.
President Petro Poroshenko's latest political gamble saw him seek out the popular head of Ukraine's frontline forces in his search for the fourth defence chief since Russia's seizure of Crimea in March and the subsequent separatist uprising in the east.
National Guard chief Stepan Poltorak, one of Ukraine's most revered soldiers, was confirmed as defence minister by lawmakers in a 245-1 vote.
Poroshenko will rely on Poltorak to instill confidence in a demoralised force that has lost around 1,000 soldiers in its campaign to quash pro-Russian guerrillas in the economically-vital rustbelt.
Kiev defence officials said the deadliest day since the ceasefire agreement on September 5 also saw seven troops lose their lives in sporadic attacks.
Ukraine's worst crisis since independence in 1991 has claimed 3,400 lives and not only threatened to break up the country but also set back relations between Moscow and the West to an era when they viewed each other as direct threats.
Kiev and its Western allies accuse Russia of inciting the revolt and covertly sending in special forces to pay back Ukraine's new leaders for their February ouster of a Kremlin-backed president.
Poltorak told lawmakers in a brief but combative address that his top priority rested in building a reliable defence against Russia through a brand new army that Kiev hopes to equip with NATO weapons.
"Ukraine needs peace, and only a modern, well-trained and well-supplied mobile armed forces can guarantee this peace," said the 49-year-old career military man.
But he also asked lawmakers to give him "time and support" -- an appeal made more relevant by parliament's ability to dismiss ministers, in new rules that take effect after the October 26 poll.
Former defence minister Valeriy Geletey submitted his resignation three months into his term after turning into a political liability for Poroshenko heading into the parliamentary vote.
Geletey bore the blame for allowing a contingent of Ukrainian soldiers to be trapped near the Russian border in late August by better-equipped insurgents.
More than 100 troops died after trying for days to hold off the attack without any support from nearby Ukrainian units.
The bloodbath soon prompted Kiev to agree to peace terms granting parts of the Russian-speaking east limited self-rule.
Poltorak's confirmation came hours before US Secretary of State John Kerry and Russian Foreign Minister Sergei Lavrov were to sit down in Paris with their list of mutual grievances having only grown since their last meeting at the United Nations three weeks ago.
Russia has also condemned US-led attacks on jihadist fighter positions in Syria -- where the war between old Kremlin ally Damascus and rebels had upset relations between the two powers even before the Ukraine crisis flared.
Lavrov is expected to skirt Syria and instead try to impress on Kerry his view that tough Western sanctions on Russia were eroding hopes of an economic recovery in Europe and straining Washington's own ties with Brussels.
"We do not know who is losing out more in economic terms: Russia or the European Union," Lavrov said shortly before flying to Paris.
Russian President Vladimir Putin -- due to meet Poroshenko in Milan on Friday -- has boosted Lavrov's hand by calling back from the Ukrainian border 17,600 soldiers he had stationed there when Kiev's forces were making their most significant gains this summer.
The sanctions have cut Russia's access to Western money markets and forced its biggest state companies to appeal for massive rescues that will further limit the government's ability to meet its social commitments.
They also threaten to tip Russia into recession and ensure that growth remains anaemic through the remaining four years of Putin's third term.
October 15 2014, 11:51