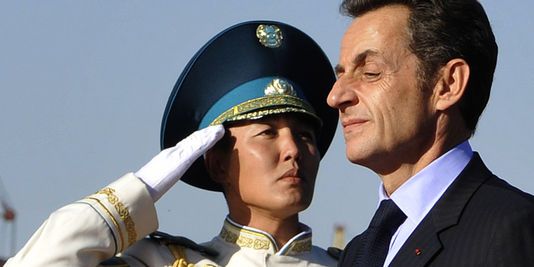 Nicolas Sarkozy, during official visit to Kazakhstan on October 6, 2009. Nicolas Sarkozy is back in the press for more legal woes that could thwart his political comeback. Le Monde reveals a new scandal dubbed "Kazakhgate" which involves allegations of illegal kickbacks from the sale of 45 helicopters to Kazakhstan in 2010, during Sarkozy's time as president.
Probe launched by the French department of justice into state affair since spring of 2012 seems to implicate the former French President Nicolas Sarkozy into scandal called "Kazakhgate". The deal signed between France and Kazakhstan during Sarkozy's time as president for manufacturing 45 helicopters by Eurocopter has the evidences of remittance of kickbacks in France.
Two Parisian judges claim they have facts of "money laundering by organized group", "corruption of foreign public agents", "complicity and concealment" of these offences that gives way to explore the bottom side of the ice-berg of these contracts signed in 2010 for about 2 billion euro between France and Kazakhstan.
Former adviser of Nicolas Sarkozy, the then president of the France and Claude Guéant, the then general secretary of the Élysée Palace, were investigated in September with regards to this state affair. Nicolas Sarkozy, himself, is suspected of lobbying the legislation in 2011 in the Belgian Senate at the request of the Kazakh president Nazarbayev, to soften the judicial fate of a Kazak businessmen Patokh Shodiev in Belgium and to allow conclusion of those immense contracts. Two intermediaries and a lawyer of Nice, suspects in the case, were interviewed in September for allowing the payment of kickbacks. "Kazakhgate", from legal point of view, is only beginning.
Translated from 'Le Monde' by Zeena Urynbassarova
October 9 2014, 18:57