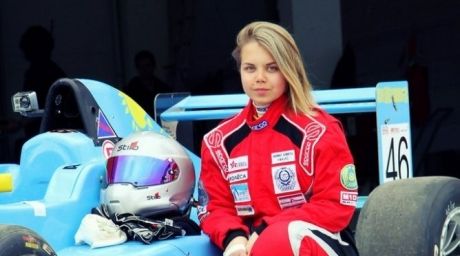 Lyubov AndreevaA 17 y.o. Kazakhstani racer may be the next Danica Patrick in the making. Her name is Lyubov Andreeva and she is presenting Kazakhstan at Formula Russia this year. The teenager was invited to compete in the racing series last season and is joinging the participants list this year.
"I started when I was 9 and my Dad brought me to kart racing. He put me into the kart car and I liked it. That is how we started training," Lyubov said.
She is a kart racing champion of Kazakhstan and now is ready to take her career to a new level.
"She will be the first person from Kazakhstan to compete in Formula. She was invited to compete in the race. It mat be just Russian Formula at this point, but still it is the first step towards Formula One," her father Daniil Andreev said.
Formula Russia is a national series that consists of F3, GP3a and Formula Renault 2.0 levels. The race is a version of European Formula Abarth that is aimed at kart race graduates. Since 2012, the competition was conducted along with Russian Racing Championship. The goal of the project is to identify the most talented young racers and prepare them for Formula One.
October 9 2014, 15:42