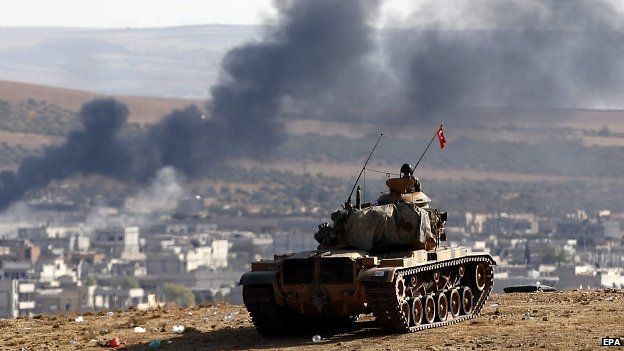 Turkey has tanks deployed along its border within sight of the fighting inside KobaneTurkey's foreign minister says it cannot be expected to lead a ground operation against Islamic State (IS) militants in Syria on its own.
Mevlut Cavusoglu also called for the creation of a no-fly zone over its border with Syria after talks in Ankara with new Nato chief Jens Stoltenberg.
Turkey is under intense pressure to do more to help Kurdish forces fighting IS in the strategic Syrian town of Kobane.
Activists say IS now controls about a third of Kobane after fierce fighting.
Monitoring group the Syrian Observatory for Human Rights, quoting "reliable sources", said IS was advancing towards the centre of the town from eastern districts.
US-led air strikes continued overnight and into Thursday morning against IS positions around Kobane, also known as Ayn al-Arab. Plumes of smoke could be seen rising over the town.
Earlier, a Kurdish leader in Kobane said IS had entered two more districts overnight, bringing in heavy weapons.
Turkey has stationed tanks along its border overlooking the town, but has made no move to intervene.
Mr Cavusoglu was holding talks with Mr Stoltenberg and US envoys on possible Turkish action against IS.
Turkey clashes
The US is leading an international coalition against IS after the group seized swathes of territory in Syria and Iraq, which both share a border with Turkey.
Turkey remains wary of getting involved, partly because it is concerned about arming the Kurdish forces who are fighting the militants. Turkey has fought a long civil war with its Kurdish minority.
Pro-Kurdish protesters demanding Turkish intervention have clashed with police in several cities over recent days, leaving at least 12 people dead.
There was further fighting in Istanbul on Wednesday night with protesters hurling petrol bombs at police, who responded with water cannon and tear gas.
However, the government did win parliamentary authorisation for possible military action last week.
The motion provides a legal framework for the Turkish military to launch incursions into Syria and Iraq against militants who threaten Turkey. It also allows for foreign troops to be stationed in Turkey as part of the same campaign.
Turkey - a Nato member - wants the creation of a border zone or safe haven enforced by a no-fly zone along the Syrian side of its border to stop militants moving across and to ease the influx of refugees into Turkey.
France supports the idea but the White House has said it is "not something that is under consideration right now".
Mr Stoltenberg, speaking in Ankara, said the setting up of a no-fly zone or buffer zone inside Syria has not been discussed by Nato.
But Pentagon spokesman Rear Adm John Kirby warned that "air strikes alone are not going to save the town of Kobane. We know that and we've been saying that over and over again".
He said that ultimately rebel fighters in Syria and Iraqi troops would have to defeat IS militants, but it would take time.
As the battle for Kobane intensified, Asya Abdullah, a co-leader of the Kurdish Democratic Union Party (PYD)representing Syrian Kurds in Kobane, said that on Wednesday night IS entered two districts of Kobane with heavy weapons, including tanks.
"Civilians may have died because there are very intense clashes," she said.
The Syrian Observatory for Human Rights earlier said IS was bringing in reinforcements from its stronghold in Raqqa province.
October 9 2014, 15:25