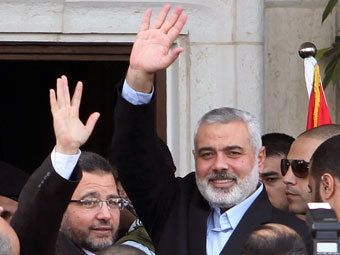 Hisham Kandil and Ismail Haniyeh. Credit: Reuters
Egypt tried to open a tiny window to emergency peace diplomacy in Gaza on Friday, but hopes for even a brief ceasefire while its prime minister was inside the bombarded enclave to talk to leaders of the Islamist Hamas movement were immediately dashed, reported Reuters on Friday.
Prime Minister Hisham Kandil visited the Gaza Strip officially to show solidarity with the Palestinian people after two days of relentless attacks by Israeli warplanes determined to end militant rocket fire at Israel.
A Palestinian official close to Egypt's mediators told Reuters Kandil's visit "was the beginning of a process to explore the possibility of reaching a truce. It is early to speak of any details or of how things will evolve".
Israel undertook to cease fire during the visit if Hamas did too. But it said rockets fired from Gaza hit several sites in southern Israel as he was in the enclave and has begun drafting 16,000 reserve troops, a possible precursor to invasion.
Tanks and self-propelled guns were seen near the border area of Friday and sirens sounded again over Tel Aviv, after witnesses in Gaza saw a long-range rocket launched. Israeli police said it landed in the sea off Israel's commercial centre.
A Hamas source said the Israeli air force launched an attack on the house of Hamas's commander for southern Gaza which resulted in the death of two civilians, one a child.
Israel's military strongly denied carrying out any attack from the time Kandil entered Gaza, and accused Hamas of violating the three-hour deal.
"Even though about 50 rockets have fallen in Israel over the past two hours, we chose not to attack in Gaza due to the visit of the Egyptian prime minister. Hamas is lying and reporting otherwise," the army said in a Twitter message.
Kandil said: "Egypt will spare no effort ... to stop the aggression and to achieve a truce."
Palestinian medics said two people were killed in the disputed explosion at the house, one of them a child. It raised the Palestinian death toll since Wednesday to 22. Three Israelis were killed by a rocket on Thursday.
The Palestinian dead include eight militants and 14 civilians, among them seven children and a pregnant woman. A Hamas rocket killed three Israeli civilians in a town north of Gaza, men and women in their 30s, hitting their apartment.
THE MESSAGE
"If Hamas says it understands the message and commits to a long ceasefire, via the Egyptians or anyone else, this is what we want. We want quiet in the south and a stronger deterrence," Israeli vice prime minister Moshe Yaalon said.
"The Egyptians have been a pipeline for passing messages. Hamas always turns (to them) to request a ceasefire. We are in contact with the Egyptian defense ministry. And it could be a channel in which a ceasefire is reached," he told Israeli radio.
Tunisia's foreign minister was due to visit Gaza on Saturday "to provide all political support for Gaza" the spokesman for the Tunisian president, Moncef Marzouki, said in a statement.
On Israel's side of the border there were signs of possible preparations for a ground assault on Gaza. In pre-dawn strikes, warplanes bombed open land along the fence, in what could be a softening-up stage to clear the way for tanks.
The United States asked countries that have contact with Hamas to urge the Islamist movement to stop its rocket attacks.
November 17 2012, 18:50