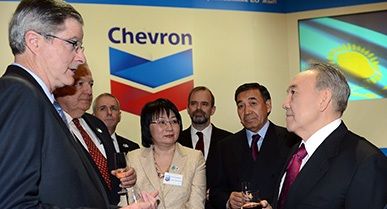 Celebrating Chevron's 20-year partnership with Kazakhstan in Astana: John Watson, Chevron chairman and CEO (on the left), RoK President Nursultan Nazarbayev (on the right).Kazakhstan has backed an expansion project to boost output of Tengizchevroil (TCO), the nation's biggest oil producer, despite higher than originally estimated costs, Kazakh Energy Minister Vladimir Shkolnik said on Tuesday.
TCO's output is crucial to keep Kazakhstan's oil output roughly unchanged at 81.8 million tonnes this year and next before the giant Kashagan oil project, shut due to gas leaks in its pipelines last October, is restarted in 2016, a senior energy official said last week.
TCO, led by U.S. oil major Chevron with a 50-percent stake, is developing the mammoth Tengiz onshore oilfield in Kazakhstan's western Atyrau region.
Kazakh President Nursultan Nazarbayev, who has ruled since Soviet days and whose word is final in the nation of 17 million, met Chevron's top management in his capital Astana on Monday.
"The head of state received Chevron's entire board of directors yesterday," Shkolnik said in a speech in parliament. "The expansion project was approved in principle."
"It was originally planned to cost $23 billion, but due to a number of circumstances our partners presented to us a sum which is much bigger - around $40 billion," he said.
Shkolnik told reporters later the higher costs were due to higher prices charged for services, pipes and various equipment to be used during the expansion phase.
"We (Kazakhstan) will fight and check every figure," he said. "The final figure is still being discussed, it may be lower," he added.
Output from TCO rose to a record 27.1 million tonnes last year from 24.2 million in 2012. Shkolnik said output was expected to hit 38 million tonnes when the expansion project is finished. TCO, which launched the preparatory, early phase of expansion this year, aims to complete it by 2019.
Kazakhstan, the second largest former Soviet oil producer after Russia, holds 20 percent in TCO via state oil and gas company KazMunaiGas, U.S. energy giant Exxon Mobil has 25 percent and Lukarco, controlled by Russia's Lukoil, the remaining 5 percent.
Kazakhstan will receive additional revenue of more than $150 billion in dividends, taxes and other payments after the completion of the expansion project until 2033, Shkolnik said.
Along with achieving a record output last year, TCO also paid a record total of just under $15 billion to Kazakhstan in 2013, TCO General Director Tim Miller said in January.
October 8 2014, 10:36