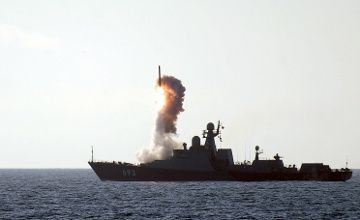 Russia's Caspian flotilla grouping held joint military exercises with Kazakhstan's naval force during their visit to the Kazakh port of Aktau, the press service of the Southern Military District said.
"A tactical grouping of warships made of the Dagestan missile-carrying guard ship, the Grad Sviyazhsk small missile-carrying ship from the Caspian flotilla and the Kazakhstan and Oral artillery gunships of Kazakhstan's Navy held joint war games protecting maritime economic facilities," the military district's press service said.
Warships drilled joint sea maneuvers, their crews had separate and joint fire drills on sea and air targets. A buoyant mine was destroyed amid resistance of an imaginary enemy's aviation steered by Kazakh military pilots, Itar-Tass reports.
On Tuesday, Russian warships will set out in the high seas again to visit the Iranian port of Bender Enzeli and Azerbaijan's capital Baku, the Southern Military District reported.
October 7 2014, 13:50