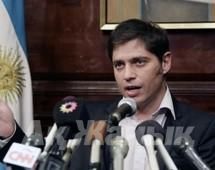 Argentina's Economy Minister Axel Kicillof said the government would ''respect the parameters of the law''.Argentina is in default for the second time in 13 years after government officials were not able to reach a compromise deal with bond holders, officials said Thursday, azh.kz refers to mg.it.
Argentine's economy minister Axel Kicillof went to New York to try and find a compromise with hedge funds and other bond holders, but his mission failed. The crisis arose after a United States judge ruled in favour of hedge fund investors who have demanded repayment of $1.3 billion.
Standard & Poor's has deemed the country to be in selective default, which will have a major impact on the country's future borrowing costs.
July 31 2014, 16:16