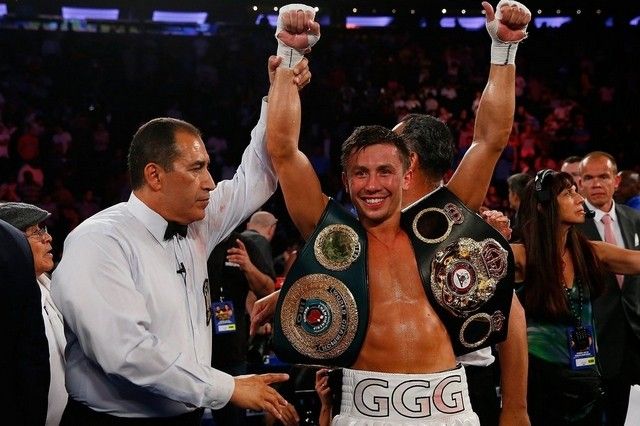 Kazakh boxer G. Golovkin celebrates after his win over Daniel Geale on Sat in NYC.Gennady Golovkin, also known as "GGG", made his Madison Square Garden Debut Saturday night and he did not disappoint.
GGG put on a show for the crowd in the world's most famous arena, showing off the ferocious power that few middleweights in recent memory have displayed. Golovkin ended up knocking out Daniel Geale in the third round for his 30th straight victory.
Golovkin sent Geale to the canvas with a crisp right hand in the 2nd round. The Australian was very game though, and fought back valiantly. Golovkin kept the pressure coming with a massive two fisted attack and finished Geale off in spectacular fashion in the 3rd. It was another perfect right hand flush to the chin during a heated exchange that finished the match, vavel.com reports.
Golovkin improved to 30-0 with 27 KO's and has now knocked out 17 straight opponents. Sergey Kovalev, Andre Ward, Miguel Cotto, and maybe even Canelo Alvarez, are all big name possibilities for GGG's next fight.
July 28 2014, 00:27