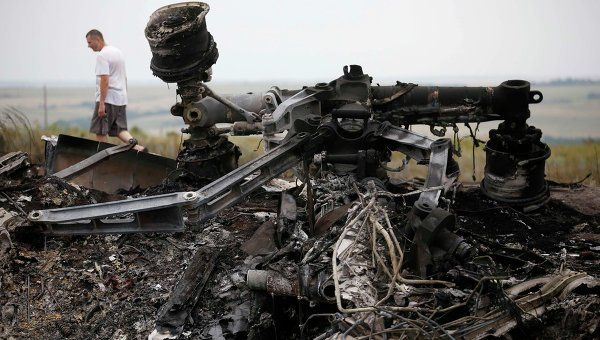 A group of Malaysian experts traveling to the Boeing crash site near Donetsk witnessed an attack carried out by Ukraine's aviation against independence supporters, a local militia spokesman accompanying the vehicles told RIA Novosti.
The group of 12 experts and government officials arrived in Donetsk from Kharkiv on Monday afternoon. They came later than expected as Ukraine's military shelled a railway station and attempted to seize the village of Pesky and Dzerzhynsk, a city to the north of Donetsk.
Five local civilians were killed and 12 others wounded in the attack, the Donetsk mayor's office said. Seven militiamen and scores of National Guard members were killed in clashes in Dzerzhynsk.
A reporter of Malaysia's Star newspaper Patrick Lee wrote, "As we arrived at the Donetsk train station after a four-hour journey across eastern Ukraine, gunshots rang out. Civilians ran helter-skelter, looking for cover."
"When we arrived here, we came face to face with the escalating conflict, a matter which will likely make it more difficult for investigators to access the MH17 crash site," he said.
Shortly after arriving in Donetsk, the group decided to go to the crash site near the city of Torez, where they were expected to examine the train containing the bodies of the victims.
A militia member said the group witnessed a Ukrainian airstrike targeting a highway and one vehicle was burnt.
The experts later returned to Donetsk where the prime minister of the self-proclaimed Donetsk People's Republic handed over to them the black boxes from the crash. The train carrying bodies arrived later in the city.
Malaysian experts plan to travel to the crash site later on Tuesday.
Ukrainian President Petro Poroshenko Monday declared a 40 kilometer area around the site a demilitarized zone, and Donetsk militia agreed to observe the regime.
The UN Security Council adopted a resolution Monday demanding that those responsible for this incident be held to account and all military activities be immediately ceased near the crash site to allow for security and safety of the international probe.
July 23 2014, 16:24