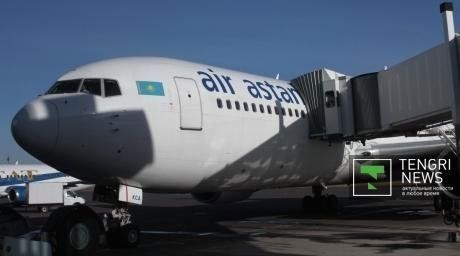 Air Astana made its first flight to Kiev after the crash of Malaysia Airlines Boeing 777 over Donetsk region in Ukraine, tengrinews report citing the press service of the airline company.

Almaty-Kiev-Almaty flight was carrying 128 passengers.

"We had obtained the permit to make the yesterdays, July 20, flight. Permits for other flights are being negotiated," the press service said.

Earlier Air Astana said it would stop making flights to Ukraine until it received a special permit to use the northern corridor in Russia, allowing it to completely bypass the military action area in eastern Ukraine.

Malaysia Airlines MH17 plane on the way from Amsterdam to Kuala-Lumpur, when it was shot down over the rebel-controlled territory in self-proclaimed Donetsk People's Republic. The plane crashed on 17 July in the second half of the day. There were 283 passengers and 15 crew members on board. They all died in the tragedy. Ukrainian air traffic controllers lost contact with the plane just 50 kilometers from the border with Russia.
The crash site has been finally opened to the international team of investigators after Russia backed the UN Security Council resolution today, July 22. However, there are still worries that the crash site has not been properly handled and it is apparent that investigators have been initially prevented from getting to the site. Last night, the black box was finally handed over to Malaysian officials.

For more information see:http://en.tengrinews.kz/companies/Air-Astana-conducts-first-flight-to-Ukraine-since-MH17-crash-254961/
Use of the Tengrinews English materials must be accompanied by a hyperlink to en.Tengrinews.kz
July 23 2014, 12:22