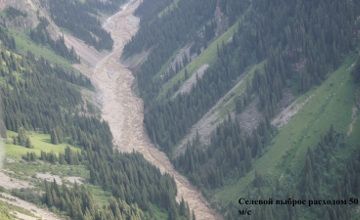 Rescuers have evacuated 105 children from "Maralsay" children's camp which is located close to the area of mudflow, this has been announced today at a press briefing by the director of the department for emergency elimination under the Emergency Ministry Alexey Sovetov, inform.kz reports.
According to him, the situation was evaluated in settlements and recreation areas, which may be in the area of possible debris flooding. After the investigation it was decided to evacuate the children's camp" Maralsay, said Sovetov.

The motorway, in the direction of "Sputnik" children's camp, is being cleared of the debris, and it is patrolled on 4 all-terrain vehicles. Stand-by duty posts are organized. All the posts of the Almaty Kazselezaschita (mudflow protection) division work under heavy security regime. Works were started to restore temporary bridges on Talgar River.

Recall that on July 17, 2014 in Talgar district of Almaty region on the river Sredniy Talgar "Kazselezaschita" recorded undulating mudflow release up to 42 cubic m / s.
July 21 2014, 16:39