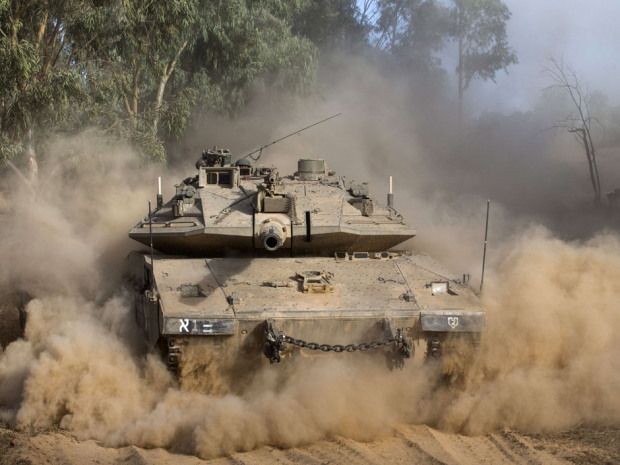 An Israeli Merkava tank rolls near Israel's border with the Gaza Strip Thursday.Deadly clashes broke out after Israeli tanks drove into Gaza and launched a ground operation that further escalates the conflict with Hamas, cnn reports.
The incursion Thursday night follows 10 days of Israeli bombardment of Gaza that has killed more than 250 people. Israel launched the ongoing aerial offensive last week, saying it aimed to halt the firing of Hamas rockets from Gaza into Israel.
Israeli Prime Minister Benjamin Netanyahu and Defense Minister Moshe Yaalon ordered the ground operation to destroy tunnels dug from Gaza into Israeli territory, according to a statement.
Thirteen Hamas militants used a tunnel earlier Thursday to launch an attempted attack in Sufa, near an Israeli kibbutz, but were stopped by Israeli soldiers, the Israel Defense Forces said.
The IDF said it had sent a "large" force into Gaza that includes infantry, tanks, artillery, combat engineers and intelligence units, with aerial and naval support.
Ramez al Madhoun, a resident of Beit Lahiya in northern Gaza, told CNN by phone that people were streaming past his house Thursday night to flee the Israeli offensive.
As blasts from airstrikes and artillery barrages went off in the background, Al Madhoun said that he and his family of about 20 people were staying put.
"My father is 78 years old -- where am i supposed to go?" he asked. "We are a sitting duck."
CNN's Wolf Blitzer asked Mark Regev, Netanyahu's spokesman, whether Israel planned to occupy Gaza for a long time.
Regev didn't answer directly, but said Israel's goals are to "diminish" the Hamas military force and to show that it cannot attack Israel with impunity.
Hamas warns of 'heavy price'
Hamas immediately condemned the Israeli offensive. The militant group's spokesman Fawzi Barhoum told CNN that "the beginning of the Israeli ground invasion of Gaza is a dangerous step with unknown consequences. Israel will pay a heavy price for it."
Jordan called for an urgent meeting of the U.N. Security Council following the Israeli incursion. The timing and format of the meeting, which was expected to take place Friday, wasn't immediately clear.
In an appearance on Aqsa TV, Barhoum said, "the resistance will confront the Israeli ground invasion and will defend the people of Gaza."
Earlier this week, Hamas rejected an Egyptian cease-fire proposal that Israel accepted and observed for around six hours.
Barhoum said Hamas military forces are "far stronger" than during previous conflicts with Israel in 2009 and 2012. Militants are prepared to capture Israel soldiers and use them to trade for some of the 5,000 prisoners in Israeli jails, Barhoum said.
The IDF said early Friday that one Israeli soldier was killed overnight in northern Gaza. It said it had killed "some 14 terrorists in several exchanges of fire."
The Gaza Health Ministry said at least 260 people have been killed and more than 2,000 injured in the territory since Israel began its aerial campaign against Hamas last week. Twenty-four of the deaths occurred since the ground offensive started late Thursday, the ministry said.
Most of the casualties in Gaza have been civilians, according to the United Nations.
Before the soldier's death, Israeli authorities had reported that one civilian had been killed during the conflict.
'Hit Hamas hard'
"We have hit Hamas hard, and we will continue to hit Hamas hard," the IDF tweeted at the start of the ground operation. It called up an extra 18,000 reservists into its ranks.
U.S. Secretary of State John Kerry spoke with Netanyahu after the offensive began, expressing the view that it "should be a precise operation to target tunnels," the State Department said in a statement.
Kerry "emphasized the need to avoid further escalation" and reiterated "the importance of doing everything possible to prevent civilian casualties," the statement said.
Palestinian security sources said overnight that Israeli tanks had reached Abu Holeh, roughly in the center of Gaza, and that Israeli troops were clashing with Hamas and Islamic Jihad fighters along the Kissufim road.
If Israeli forces go from there to the sea, they could split Gaza as they did during their 2009 ground operation in the territory.
Before the incursion, the IDF dropped leaflets in 14 areas of Gaza, urging residents to temporarily leave their homes. Many residents of Gaza have said they have nowhere to flee in the small, impoverished strip of land.
"Since the Israelis started this 11 days ago, they have been telling us to leave. Where our we supposed to go -- to the Gaza Sheraton? Or take a hike in the forest?" said Al Madhoun, the resident of northern Gaza.
"We urgently appeal for restraint so that civilians who have suffered enough in this appalling conflict do not suffer further," Chris Gunness, spokesman for the United Nations Relief and Works Agency for Palestine Refugees, said in a statement.
The U.N. agency said it is sheltering about 22,000 people in Gaza City and northern Gaza.
Violence reignites after brief halt
The ground operation, which Israeli officials had been threatening for days, followed one of the worst evenings of violence since the war began. The fighting flared after a temporary cease-fire, requested by the United Nations for humanitarian purposes, ended earlier in the day.
The Gaza Health Ministry said seven children were killed in three hours on Thursday, adding to a growing toll.
Kenneth Roth, executive director of Human Rights Watch, said Israeli bombs hit Wafa Hospital in Gaza while four patients were inside. Seventeen others had evacuated, he said.
Explosions continued to illuminate the sky over Gaza. Rockets screeched into the sky toward Israel. Red tracer rounds flew across the horizon. The repetitive thud of naval guns echoed across the territory.
Talks in Egypt
Before Israel launched its ground offensive, officials from around the region had held talks in Cairo about cease-fire proposals.
Palestinian Authority President Mahmoud Abbas met with Arab League Secretary-General Nabil Al-Arabi. An Israeli delegation also attended, leaving after several hours, the state-run al-Ahram news agency reported.
"I expect that we will reach an agreement very soon; the efforts of a cease-fire is to stop the bloodshed, killing and destruction in Gaza," said Nabil Shaath, an Abbas adviser and member of the central committee of the Palestine Liberation Organization.
He said negotiators were focusing on stopping bloodshed above all else. He said they would later discuss Hamas demands, including opening Gaza border crossings and freeing prisoners whose exit from jail was negotiated in exchange for the release of Israeli soldier Gilad Shalit.
"These are all legitimate demands by Hamas, but the priority is for an immediate cease-fire," Shaath said.
Hamas leaders had rejected an earlier Egyptian cease-fire proposal, saying they had not been consulted on the deal and complaining that it did not address their broader demands.
Egypt is playing a large role in the talks despite its distrust of Hamas.
Like Israel, Egypt considers Hamas a terror organization because of the group's roots in the Muslim Brotherhood, which Egypt's military-led government banned after the country's 2013 coup.
The president ousted in that coup, Mohamed Morsy, who was backed by the Muslim Brotherhood, brokered the cease-fire that stopped the 2012 conflict between Israel and Hamas.
July 18 2014, 15:04