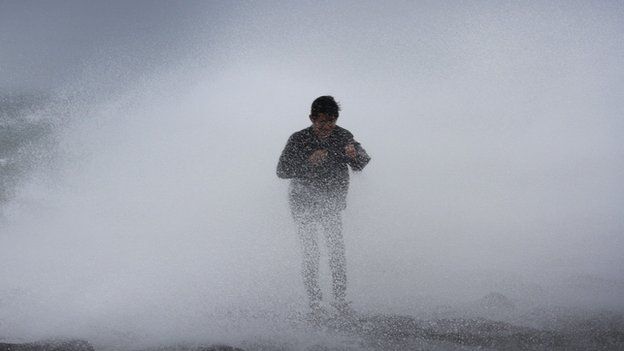 A resident in Legazpi City is hit by strong wavesStrong winds knocked out power and forced thousands of people to evacuate as Typhoon Rammasun hit the central Philippines, bbc reports.
The typhoon, also known as Glenda, struck the main island of Luzon with gusts of up to 185km/h (115 mph).
Authorities said at least four people had been killed by the storm.
Officials said the eye of the storm passed south of the capital, Manila, but the severe weather brought it to a standstill.
Government offices and schools were shut on Wednesday while flights were cancelled.
More than 370,000 people, mostly in the eastern province of Albay which was the first to be hit by the typhoon, had been evacuated, the Philippine National Red Cross said.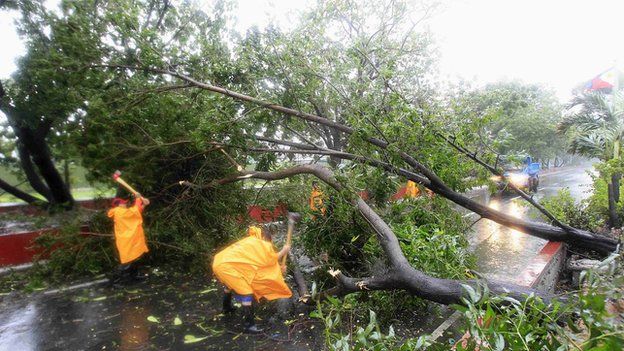 Government workers remove a fallen tree along a main road after strong winds brought by Typhoon Rammasun battered the capital, metro Manila on 16 July, 2014 Town halls had been converted into shelters and evacuees had also been taken to schools and gymnasiums.
"Trees are starting to fall down and everything is just rain and wind," eyewitness Zhey Anzures told the BBC from a Manila suburb.
"We are also just beside a construction site and the cranes are really rotating because of the strong winds."
Strong winds also bore down on homes in outlying slum areas along Manila Bay, where thousands of people live.
"Our house was destroyed and we lost many of our belongings," housewife Dayang Bansuan told AFP news agency. "We fled our home just before dawn when the water started rising up to our ankles."
Richard Gordon, chairman of the Philippine National Red Cross, said staff were trying to rescue people trapped by fallen debris in Batangas City.
"We have not received reports of major flooding in Manila because the typhoon did not bring rain but the winds were strong," he said, adding that an increased awareness of storm surges and a willingness to follow government advice had also helped reduce casualties this time around.
The Philippines is hit by around 20 major storms a year. Typhoon Rammasun is the first to make landfall this year after the rainy season began in June.
Typhoon Haiyan, which devastated the country last year, killed more than 6,000 people and was said to be one of the worst storms on record.
July 16 2014, 12:53