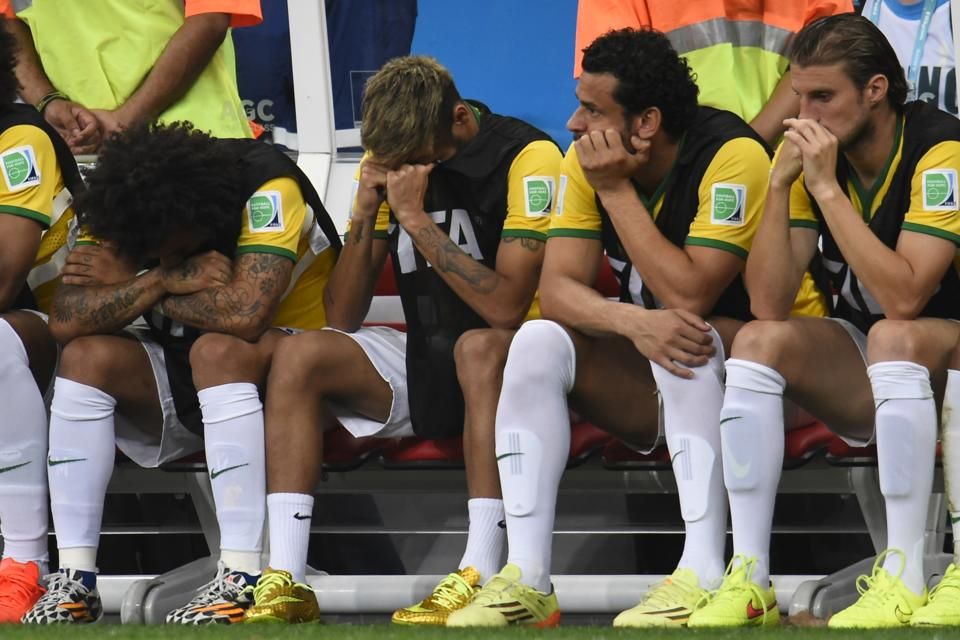 Brazil's miserable World Cup campaign ended to a chorus of boos on Saturday as the hosts slumped to a 3-0 defeat against the Netherlands in the third place playoff match.
A penalty from Robin van Persie and a Daley Blind strike saw the Dutch take a 2-0 lead after only 17 minutes as Brazil endured more woe after their humiliating 7-1 semi-final rout by Germany.
Once again Brazil's defence was hopelessly exposed, with the first Dutch goal coming when van Persie sent Robben racing in behind them.
Thiago Silva tugged the Bayern Munich star over and although the foul began outside the penalty area, Algerian referee Djamel Haimoudi pointed to the spot. Silva meanwhile was lucky to escape with only a yellow card.
Brazil's defence was scattered once more in the 17th minute.
Daryl Janmaat crossed from the right and David Luiz's poor headed clearance fell to Blind who finished for his first international goal.
Georginio Wijnaldum added a late third for the Dutch to trigger more jeers and catcalls for the hosts.
The defeat marks the first time since 1974 that Brazil have lost consecutive World Cup matches.
Brazil coach Luiz Felipe Scolari, whose contract was to be reviewed at the end of the World Cup, refused to discuss his future.
"It is up to the president (of the Brazilian Football Confederation) to decide. We will hand in a final report and then leave it to him to analyse what needs to be done," said Scolari.
"I'm not going to discuss (my future) with you. Winning or losing that is what we would have done."
The defeat comes with Brazilian fans already dreading the nightmare scenario of Argentina lifting the World Cup in Sunday's final against Germany at the Maracana Stadium in Rio de Janeiro.
Germany will go into Sunday's match as favourites after their 7-1 triumph against Brazil. But Argentine captain Lionel Messi, four time world player of the year, will be looking for his first World Cup title.
"Tomorrow, we will play the most important match of our lives for our country," Messi wrote on his official Facebook page on Saturday.
"My dreams and my hopes are being fulfilled due to the hard work and sacrifice of a team that has given everything from match one."
Germany and Argentina have already played each other in two World Cup finals. Argentina, with Diego Maradona, beat West Germany 3-2 in 1986 in Mexico. West Germany took revenge with a 1-0 victory in the 1990 final in Italy.
A European country has never won the World Cup tournament held in the Americas.
Germany midfielder Bastian Schweinsteiger said Saturday his side will be under "no pressure" on Sunday despite being favourites for the game.
"We're looking forward to it. There's huge anticipation and joy. We have no pressure," Schweinsteiger said.
Striker Miroslav Klose is the only survivor in the Germany squad from the team beaten 2-0 by Brazil in the 2002 final, but Schweinsteiger says that his team-mates have sufficient experience of major games.
"We have lots of players among the 23 who've played in important finals and we know how to handle that," he said.
Brazilian authorities are preparing their biggest ever security operation for the final with nearly 25,800 police, soldiers and private security guards on duty in the city and at the stadium.
Russia's President Vladimir Putin, whose country will host the 2018 World Cup finals, will join Brazil's President Dilma Rousseff at the Germany-Argentina match, where Ukraine leader Petro Poroshenko will also be in attendance.
About 100,000 Argentine fans are expected to invade the city, even though most do not have tickets.
"We have from today the biggest security operation that the city, the country, has ever seen," said Rio state security secretary Jose Mariano Beltrame.
In a bid to avoid violence, bars around the Maracana stadium will be ordered to stop selling alcohol two hours before Sunday's match. Police blockades around the stadium were being put in place on Saturday night.
Rousseff basked in the glow of what has been a largely trouble-free tournament.
"We were able to do the Cup even though they said it would be chaos," Rousseff told foreign correspondents at the presidential residence Friday night.
"They said it would be horrific."
v
July 13 2014, 10:52