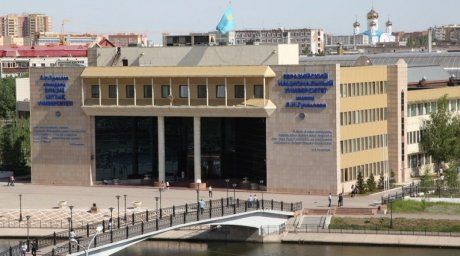 Expenditures per every apartment rented for foreign professors coming to lecture at the L.N. Gumilyov Eurasian National University exceed the average salary of an Astana resident, tengrinews reports.
Tengrinews sent a formal inquiry to the University after discovering that the the university placed a public produrenment order at the official website of public procurement in Kazakhstan. The description of the order suggested that the university was going to allocate 37.8 million Tenge ($206,000) to renting apartments for foreign employees.
The order appeared on the website on May 20, 2014 under the name "Renting apartments to accommodate foreign experts invited to the Gumilyov Eurasian National University". The application process began on May 21 and lasted until June 11, 2014.
The University in its official answer to Tengrinews said that the cost of accommodating one foreign professor will amount to 225,000 Tenge per month ($1230). The price includes the rent itself, taxes, utilities, Internet connection, cable TV and cleaning services. A total of 37.8 million tenge ($206,000) is going to be spent on apartments for foreigners in the period between April and December 31, 2014.
The University also clarified that the aforementioned housing will be provided to professors who come to lecture there for one year or more. "The price mentioned on the public procurement website is justified and does not violate any legislations of Kazakhstan," the press service said.

The University representatives also informed that the Ministry of Education and Science will provide 600 million tenge ($3.27 million) to the University for the 371 foreign professors invited to teach there in 2014 alone. This total figure includes not only the 38 million for accommodation but also wages, medical insurance, visa fees, and travel expenses to Astana. According to the University, it is now employing 31 foreign experts.

In the meanwhile, 500 local employees of the university are awaiting their turn in the queue for public housing. Moreover, in its six dormitories designed for 2,500 students, there are almost double the amount of people actually residing now. "No funding for construction of social infrastructure of the university are provided from the state budget now," was the response of the press service.

According to some estimates, the average rent in Astana is 2285 Tenge ($12.45) per square meter. This is 114,250 Tenge ($622) per month for a 50 square meter apartment. The average salary in Astana is estimated at 150,000 tenge ($817). That is, a person earning an average salary and renting a 50sq.m. apartment will be paying 76% of his or her salary as a rent even through salaries in Astana are among the highest in Kazakhstan.
July 4 2014, 17:39