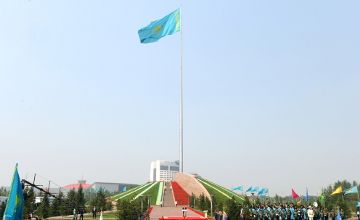 Head of State Nursultan Nazarbayev has attended a flag-raising ceremony at the Atameken ethno-memorial complex in Kazakhstan's capital Astana this morning, inform.kz reports.
The ceremony held on the 4th of July every year symbolizes the star of celebrations of the Capital's Day.

"As tradition has it, we raise the national flag on the eve of the Capital's Day as the symbol of unity and stability of our state, the symbol of the new independent country on the global map. Our flag flies over near the UN headquarters and is hoisted above our embassies around the world. The flag is raised every time our athletes celebrate their victories at international sports events. It is the symbol of patriotism and allegiance," President Nazarbayev said at the ceremony.
July 4 2014, 12:06