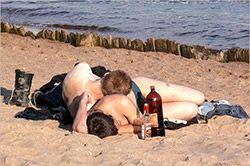 Frustrated lifeguards in Aktobe asked beachgoers to tie empty plastic bottles to their swimming trunks to make body recovery easier in case they drown, local media said.
All too many locals go for a swim when drinking with friends and drown, a rescuer from Aktobe, Oksana Kichigina, told Channel 1 Eurasia.
In such cases, the lifeguards often have to search for bodies for days because the victim's companions have no recollection of where the drowned person entered the water, Kichigina said. The bottles would speed up divers' work, she said.
Kichigina conceded the advice was tongue-in-cheek, but expressed hope it will make at least some drunken vacationers think twice before entering the water under the influence, the report said.
7 people drowned in Aktobe province since June 1, and another 30 were saved from the same fate – 80 percent of them "unbelievably drunk," according to the rescuers.
RIA Novosti
August 23 2012, 20:21