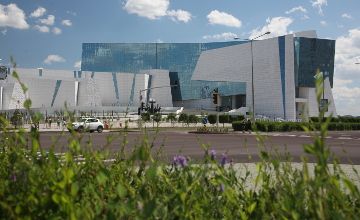 Today in Astana on the eve of the Day of the capital, President Nursultan Nazarbayev has opened the National Museum of the Republic of Kazakhstan, inform.kz reports.
"We are solemnly opening the National Museum of the history of our country. This is a new masterpiece of modern architecture. The building of the museum complements the metropolitan landscape owing to its original design", said Nursultan Nazarbayev at the opening ceremony.

This unique project has no analogues in Central Asia. The museum houses artifacts from ancient cultures as well as the 15th-17th centuries, and the Sakas and Huns have a special place among the exhibits. The exhibition shows Kazakhstan's modern achievements including those in sport. The museum accommodates several expositions, including the Museum of Astana, the Independent Kazakhstan Museum, the History Museum, the Museum of Gold and Precious Metals and the Museum of Modern Art.

National museum is equipped with facilities of international standards. Exposures use modern exhibition technologies including a unique curved screen, media floor, dynamic layout of the central part of modern Astana, numerous media screens, holograms, LED-technology, touch kiosks, and multimedia guide.
July 2 2014, 16:48