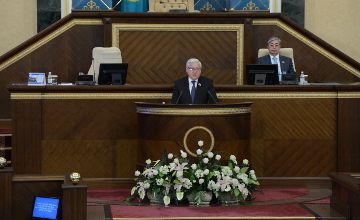 Kazakhstan's Parliament has closed its third session today. The lawmakers are now not scheduled to reconvene until September 2014.
The joint session of the Kazakh Parliament chambers - Senate and Majilis - was dedicated to the work done in the third session. Out of 154 bills submitted to the Parliament, 114 bills were submitted by the Kazakh Government and 11 bills initiated by MPs. 104 laws were adopted and 80 laws were inked by the President of Kazakhstan.

The signed laws are related to the 2014-2016 republican budget, employment of the population, modernization of social infrastructure, development of the regions, and support of SME.

At the session, Majilis Speaker Kabibulla Dzhakupov noted that lawmakers should tighten control over implementation of existing laws.
June 30 2014, 14:46