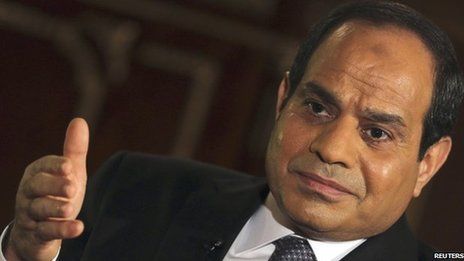 Abdul Fattah al-SisiThe US has revealed it has released $575m (£338m) in military aid to Egypt that had been frozen since the ousting of President Mohammed Morsi last year.
The news came as Secretary of State John Kerry visited Cairo just two weeks after former army chief Abdul Fattah al-Sisi was sworn in as president.
After talks with the new leader, Mr Kerry stressed the importance of upholding the rights of all Egyptians.
Mr Sisi won May elections, vowing to tackle "terrorism" and bring security.
The retired field marshal overthrew Mr Morsi last July amid mass protests against his rule.
He has since been pursuing a crackdown on Mr Morsi's Muslim Brotherhood, which urged a boycott of the 26-28 May elections. Liberal and secular activists also shunned the poll in protest at the curtailing of civil rights.
'Difficult years of transition'
State department officials said the military aid was released to the authorities in Cairo about 10 days ago, after getting a green light from Congress.
The funds - from the annual $1.5bn of chiefly military aid - will mainly be used to pay existing defence contracts.
John KerryUS Secretary of State
The US also promised it would provide 10 Apache attack helicopters for use by the army against militants in the Sinai peninsula.
"The Apaches will come and they will come very, very soon," John Kerry said at joint news conference with his Egyptian counterpart.
In "candid" talks with President Sisi on a broad range of issues, Mr Kerry "emphasised also our strong support for upholding the universal rights and freedoms of all Egyptians including freedom of expression, peaceful assembly and association."
He also pledged that Washington would "stand with the Egyptian people in their fight for the future they want."
"For Egypt, this is a moment of high stakes and also a big opportunity," Mr Kerry said, acknowledging that a number of promises by Egyptian leaders "are yet to be fulfilled".
"After three difficult years of transition, the United States remains deeply committed to seeing Egypt succeed," he said.
Mr Kerry arrived in Cairo on an unannounced visit on Sunday, the most senior US official there since the election.
Egypt remains a strategic ally for Washington, and Mr Kerry's visit so soon after Mr Sisi's inauguration shows the US is still keen to engage actively and early on with the new president in the hope it will make a difference, says the BBC's Kim Ghattas, who is travelling with Mr Kerry.
But our correspondent says that the last time Mr Kerry was in Cairo in November his advice was ignored.
Washington fears that the winner-takes-all attitude to politics in the region, from Egypt to Iraq is feeding instability, she adds.
June 23 2014, 10:09