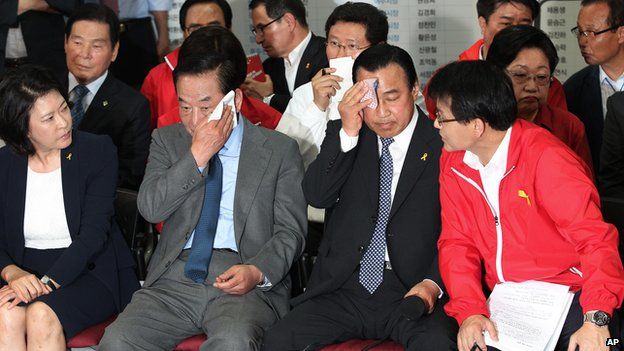 Ruling party officials were relieved at recent local election resultsSouth Korea's president has revamped her cabinet in an apparent bid to win back public support after April's Sewol passenger ferry disaster.
Park Geun-hye replaced seven members of her cabinet and appointed six new ministers.
The shake-up is Ms Park's first major shuffle since taking office last year.
She has been criticised for her handling of the ferry disaster, which left at least 292 people dead, most of them school students.
Her ruling conservative Saenuri party made a strong showing in local elections last Thursday, winning eight of 17 main contests for city mayors and provincial governors.
Following this, Ms Park nominated a new prime minister on Tuesday to replace Chung Hong-won who resigned amid criticism of the government's handling of the ferry sinking.
She also replaced her defence minister and intelligence chief.
Analysts say the political reshuffle is seen as Ms Park's efforts to move on from the ferry disaster.
June 13 2014, 15:53