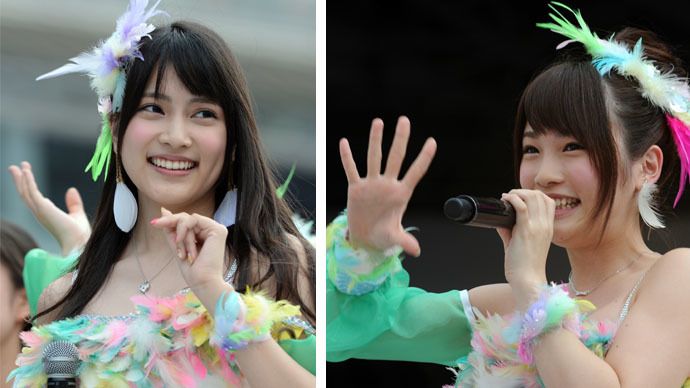 This combo of file photos shows Japanese girls' pop group AKB48 members Anna Iriyama (left) and Rina Kawaei. AFP PhotoTwo members of a Japanese idol group AKB48, consisting of 140 girls, have been hospitalized after a saw-wielding man suddenly appeared from a crowd of fans and attacked them at a 'handshake' event in Iwate Prefecture on Sunday, Japanese media reported.
The members of the pop group, Rina Kawaei 19, and Anna Iriyama 18, were brutally attacked at a fan event in Takizawa, the company behind Japan's idol group, AKS, said in a statement on its website.

The attacker, a 24 year old man, was waiting in line with hundreds of other fans, but suddenly he took out a 50-cm saw and started swinging it, Mainichi reported. The group's staff member who was also injured, was protecting the girls and tried to stop the attacker.
"I saw with my eyes, unblocked view, of my girls running out in panic, Kawaei on the floor screaming and crying, in blood. I might never forget this. Something is lost today, that bond between fans and these idols that you can meet, and it will never be the same again," a fan wrote on her Instagram account @ energywen.
So far the motive behind the attack is unclear.
May 26 2014, 18:10