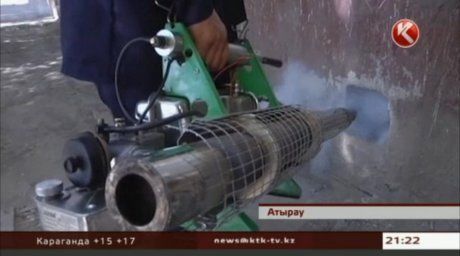 Population of mosquitoes in and around Atyrau has increased significantly making the mosquito problem more tangible then ever for the western Kazakhstan city's residents, tengrinews reports referring to KTK TV channel.
Mosquitoes started showing themselves as soon as the weather became warm in Atyrau, but soon it became obvious that this year invasion was something out of the ordinary.
Insect experts believe that the unusually large numbers of the mosquitoes have something to do with the summer heat coming early this year, the water level in the Ural River being high and basements in apartment buildings being damp.
Atyrau residents are very concerned with protecting themselves from the mosquitoes. They are stocking up on repellents and have already driven up the demand. However, the protective effect of repellents does not last long. Moreover, kids are often allergic to them. So people often have to resort to wearing clothes that covers their entire body, which is quite inconvenient, especially for children, because the weather is very hot, above 40°C.
Exterminators are working hard to throw off the mosquito siege. Earlier this spring Atyrau Akimat (city administration) purchased 5 tons of various chemicals totally worth $493 thousands. But almost all the acquired stock has already been used up and the exterminators are planning to ask the city authorities for more funding.
"The city is growing rapidly and the mosquito population is growing with it. We are running out of chemicals. Now we are studying their effect to identify the most efficient ones," Yerkyn Galiyev, chief of the Akimat's Housing and Utilities Department, said.
Usually the disinfection is made once a month, but because of this year's huge mosquito population the disinfection is made every day. The disinfection is conducted during daytime, because that is the time when large numbers of mosquitoes are concentrated in basements and in wetlands.
And all this with the summer season not even being there yet.

For more information see:http://en.tengrinews.kz/environment/Atyrau-besieged-by-mosquitoes-253728/
Use of the Tengrinews English materials must be accompanied by a hyperlink to en.Tengrinews.kz
May 25 2014, 22:22