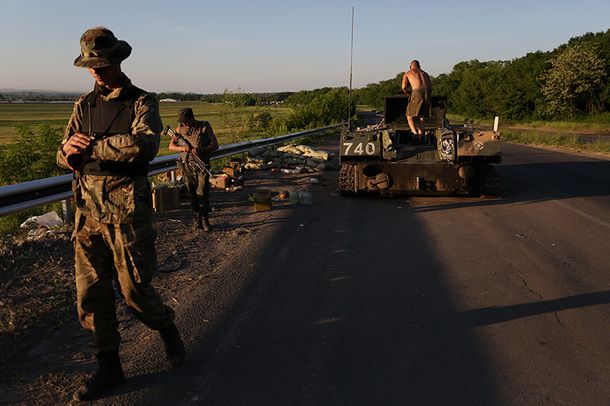 16 Ukrainian servicemen were killed by pro-Russian insurgents near Volnovakha town in Donetsk Oblast on May 22. First Deputy Health Minister of Ukraine Ruslan Saliutin reported that sixteen Ukrainian servicemen were killed in a fight near the town of Volnovakha near Donetsk on Thursday, kyivpost.com reports.
"Unfortunately, 16 our servicemen were killed. These are the recent reports over [a number of] killed military men," he said during a telephone broadcast at Channel Five on Thursday. -- Interfax
Ambulances keep bringing bodies of soldiers killed near Olginka, six victims already identified
As of 5 pm ambulances were still bringing to morgue bodies Ukraine's soldiers that were killed in the morning by the village of Olginka of Donetsk region, who became victims of abrupt and professionally planned attack.
13 soldiers were killed at military check point by this village located in less than 50 km from Donetsk city, Ukraine's acting President Oleksandr Turchynov said. Six servicemen are already identified, TSN reports. Dmytro Yovzyk, Volodymyr Zarodnyuk, Pavlo Popov, Mykhailo Hrytsyuk, Oleksandr Artmechyk and third battalion chief major Polinkevych. All the victims were from Western Ukraine.
Two more died of wounds later the day and 31 were wounded, as was told to the Kyiv Post by two military men in Volnovakha hospital, where most of casualties were brought.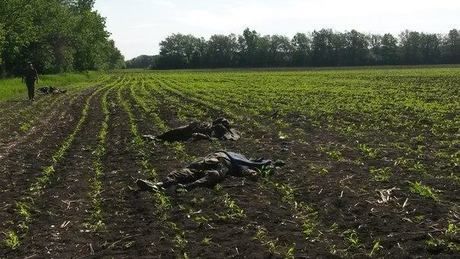 The bodies of Ukrainian soldiers killed in the May 22 attack by pro-Russian insurgents lie in a field at the scene.The Kyiv Post saw how one dead body in military uniform was brought to the local morgue just from the spot of the battle. The army officer, who asked to call him Maxim but didn't give his last name fearing for safety of his family, said that the fight started at 4:50 a.m.
"As the officer who was there and who was lucky to stay alive said a jeep drove and stopped by check point. All attention was pointed at it, and then the two cars appeared from the other side and started shooting," he said. As a result of the attack that was done by professionals only 7 soldiers out of 52 remained safe. "There were victims of their side as well but they were the real professionals," the officer said. He added that after the shootout the attackers came out from their cars having Georgy stripes tied to their clothes and tried to pretend that they were the locals.
"They dislodged jaw to one of the wounded soldiers because he was from Volyn," he said. The other soldier who said he came at the spot at about 6 am as reinforcement unit said that three helicopters flew to that place and one of them started shooting at an empty minivan of the attackers and totally destroyed it. It was unclear who the attackers were and to whom belonged the helicopters that came to the spot. -- Oksana Grytsenko
Parubiy: Major fighting takes place in northern Donetsk and Luhansk Oblasts
4:50 p.m. – Ukraine's national security and defense chief, Andriy Parubiy, said that overnight Russian-backed subversives attacked servicemen at checkpoints near Rubizhne (Donetsk Oblast) and Volnovakha (Luhansk Oblast). There was one Ukrainian serviceman confirmed dead in Rubizhne. He added that Ukrainian forces prevented an electric train filled with 60 armed men from reaching the Luhanks Oblast city of Svatovo. – Mark Rachkevych
Parubiy: Military base in Rostov On Don training Russian subversives to fight in Ukraine
4:45 p.m. – A sizable military base in Rostov On Don in Russia is training subversives to fight in Ukraine, said Andriy Parubiy, secretary of the National Security and Defense Council, at the Ukraine Crisis Media Center in Kyiv. He said the information was based on interrogations of captured Russian subversives. – Mark Rachkevych
Hospital worker in Volnovakha says 15 soldiers killed; one in critical condition; 33 wounded
4:34 p.m. -- One Ukrainian army officer in the hospital in Volnovkha says that 13 soldiers were killed today in the nearby Donetsk Oblast village of Olginka, another two died in the hospital, one remains in critical condition and 33 were wounded. Only seven of the group of Ukrainian army reservists, called up from western Ukraine and sent to the east several years ago, were uninjured in the attack. The officer says up to 20 attackers were involved. "I'm sure they were mercenaries," said the officer, who refused to be identified because he is not authorized to speak publicly. -- Oksana Grytsenko.
Kramatorsk women who took on Kremlin-backed separatists face harassment
2:55 p.m. -- Halya Coynash, a regular Kyiv Post contributor who is a member of the Kharkiv Human Rights Protection Group, filed a disturbing report today. Here it is in its entirety:
"The courageous women from Kramatorsk [Donetsk Oblast] who forced armed pro-Russian militants to leave their street have been forced to seek shelter after receiving serious threats. As reported, the women can be seen on a video widely posted on the Internet telling these armed men to get the hell out of their street and to stop trying to use women and children as human shields. One woman is heard repeating that she has two children and wants the militants out. The video was, unfortunately, watched not only by those who applauded the women's courage. TSN reports that the family of Sofia Uspishna and her daughter seen on the video have been forced into hiding. Sofia Uspishna began receiving phone calls threatening to kill them. She says that people have responded and offered them refuge, and that Ukrainian soldiers have also got in touch and promised to help. They do not for the moment plan to return home. It is, unfortunately, not surprising that no mention is made of the police who have not been active in supporting citizens against militants' aggression. In the Luhansk region, some attacks by armed militants on election commissions have taken place either with obvious coordination with local police, or active participation by police called in to guard the premises. Sofia Uspishna was heard on the video calling a police help line, giving the registration number of the min-van. There is no evidence at all that this was taken up. It remains to be seen whether the apparent change in position and public condemnation of the militants by Donetsk billionaire Rinat Akhmetov make a difference. His influence in the area is undisputed with the question having been only how he uses it."
Olginka residents report 17 Ukrainian reservists killed in separatist attack; bodies taken to nearby Novotroitskoye in Donetsk Oblast
2:46 p.m. -- Local residents in the Donetsk Oblast village of Olginka reported that three armored vehicles and 70 reserve army soldiers had been stationed there for three days from western Ukraine. About 4 a.m. on May 22, four mini-vans arrived with people in black masks and started shooting at the reservists, who fired back. Two helicopters also hovered overhead. About 6:30 a.m., two armored vehicles with Ukrainian flags arrived. Ambulances started driving around. Villagers were told that 17 Ukrainian reservists were killed and taken to the morgue in nearby Novotroitskoye. -- Oksana Grytsenko
Russian MI-8 helicopter violated Ukrainian airspace, Russian militants fired on border guards
1:15 p.m. -- On May 22, Ukraine's Foreign Ministry reported that Ukrainian border guards thwarted an attempt by "several groups of armed militants carrying weapons and ammunition from the Russian Federation to break through the state border of Ukraine" during the night of May 21-22.
The Ukrainian Interior Ministry reported in a separate statement that around 12:30 a.m. on May 22, snipers and other armed men began firing on border guards in Luhansk Oblast. By 1:00 a.m., the border guards had repulsed the attackers, some of whom sprayed the border guards with heavy machine gun fire.
Five Ukrainian guards were injured as a result of the firefight.
According to the Interior Ministry, the attackers were were armed with assault rifles, machine guns, grenade launchers and sniper rifles.
The Foreign Ministry reported that one of the rebel groups attempted to enter Ukraine at the border of the Krasnodonsky region of Lugansk Oblast.
The Foreign Ministry's statement also said that a Russian MI-8 helicopter had crossed into Ukrainian airspace in the Sumy Oblast in northeastern Ukraine in the evening hours of May 21.
The Foreign Ministry condemned the provocations "as an attempt to disrupt the presidential elections on 25 May and destabilize the situation in the eastern regions of our state."
Ukrainian servicemen killed in Donetsk firefights
12:47 p.m. -- The Ukrainian government and various media reported on May 22 that several servicemen were killed in gun battles with separatists in the restive eastern Donetsk and Luhansk regions.
The Defense Ministry said in a statement on its website that "terrorists" armed with automatic rifles and anti-tank weapons attacked a Ukrainian military checkpoint near the Volnovakha area, Donetsk Oblast, killing at least one soldier and wounding two more. However, the ministry's spokesperson, Bohdan Senk, said nine members of its security forces were killed and 17 were injured in the fights, Radio Free Europe/Radio Liberty reported.
Senk added that one Ukrainian soldier also died during clashes with separatists in the neighboring Luhansk region, according to Radio Free Europe/Radio Liberty.
Meanwhile, security analyst Dmitry Tymchuk, citing his own sources, reported that eight Ukrainian servicemen had died and 18 were injured during the firefights.
Separately, at a Ukrainian military checkpoint in the village of Blahodatne on May 22, Associated Press journalists reported seeing 11 dead bodies. Witnesses said that pro-Russian rebels attacked the village checkpoint in the eastern Donetsk region in the early morning hours.
Speaking to journalists in Kyiv, National Security and Defense Council Secretary Andriy Parubiy, said he could not confirm the number of Ukrainian soldiers killed and wounded, but that authorities would have a report later in the day.
A video said to show Ukrainian military helicopters supported servicemen on the ground during skirmishes with pro-Russian insurgents near the Volnovakha area on May 22.
Heavily armed pro-Russian separatists have been fighting with Ukrainian security forces in Donetsk Oblast for more than a month. Most gun fights have been in or near the flash point cities of Sloviansk and Kramatork. But today's fights mark the deadliest since clashes in eastern Ukraine began.
Prior to May 22, at least 25 servicemen had been killed and several dozen injured in violent battles with the insurgents. They have lost several of their own, but an exact number has been hard to pin down. -- Christopher J. Miller
Martial law declared in self-proclaimed Luhansk People's Republic
12:47 p.m. -- Valeriy Bolotov he head of the self-proclaimed Luhansk People's Republic has declared martial law throughout Ukraine's easternmost oblast.
"In connection with the start of unilateral military action by the Ukrainian Armed Forces on the territory of the Luhansk People's Republic, I order the introduction of martial law on the territory of the Luhansk People's Republic and full mobilization," Bolotov announced to reporters on May 22.
Volodymyr Inohorodskyk, Bolotov's spokesperson told Interfax that martial law would remain in effect until Ukrainian troops withdraw from the oblast.
Further, Bolotov called for peacekeepers to be sent to the region, which declared its independence from Ukraine following a May 11 separatist referendum.
The self-proclaimed republic instituted a curfew on May 3.
May 23 2014, 09:33