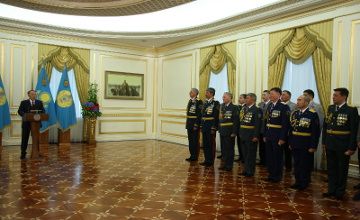 President of Kazakhstan Nursultan Nazarbayev has presented a number of officials with state awards on the threshold of the Defender of the Motherland Day in the Akorda presidential residence in Astana, inform.kz reports.
Dank Order of the II degree was awarded to Deputy Chairman of the Kazakh Agency for Fight against Economic and Corruption-related Crimes Marat Akhmedzhanov, Chairman of the Criminal Executive System of the Ministry of Internal Affairs Baurzhan Berdalin, chief of 68665 military unit Almas Dzhumakeyev, public prosecutor of the Akmola region Muratbek Issadilov, head of the Emergencies Department of Astana city Meiram Iskakov, and commander-in-chief of the Air Forces Nurlan Ormanbetov.

Rep of the state security service Raushan Dzhambulova, first deputy head of department of the National Security Committee Sergei Klinchuk, deputy commander - head of center of 14776 military unit of the Ministry of Defense Arystan Mukatayev, and commander of separate air squadron of the Frontier Service of the National Security Committee Yerbolat Smagulov were presented with Aibyn Order of the II degree.

Zhandos Bayanbayev, Batyrzhan Moinov, and Yuri Novoseltsev received Abyn Order of the III degree. Yerligi Ushin medal was awarded to Olzhas Bauken, Maksat Dyuisenbayev and Yessen Nurgaliyev. Arman Asanbai, Dmitriy Grots and Yuri Yevdokimov were presented with Zhauyngerler Yerligi Ushin medal.
May 6 2014, 13:42