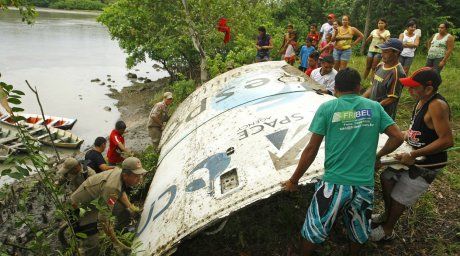 © Reuters/Tarso SarrafBBC has contacted the UK Space Agency and Arianespace about the space ship wreckage found in Brazil on April 28, tengrinews reports.
The piece found by fisherman floating in the river eerily resembles the Vega booster that was supposed to take Kazakhstan's first surveillance satellite into the orbit. It has the same logos on it. So it rose a question about the success of the launch.
Reuters released the photo on April 28, but the launch of the Vega booster carrying the Kazakh satellite was made on April 30. It was initially scheduled for April 28 but was delayed twice. So the images on the photo did look like a possible scenario.
However, according to BBC, the piece bearing the logo of the UK Space Agency and Arianespace - identical to those on the Vega booster taking the Kazakhstan's first surveillance satellite KazEOSat-1 - came from a satellite launched from the Kourou base in French Guiana last July.
A spokeswoman for the UK Space Agency, Julia Short, confirmed it to BBC that the debris was from the launch of Europe's largest telecommunications satellite last year. "It is the launch vehicle payload shroud from the Alphasat launch last year. It probably landed in the Atlantic and then floated inland," she told BBC.
This is good news for Kazakhstan that already has 2 telecommunication satellites, one Earth remote sensing satellite and is planning to launch more satellites in the coming years.

For more information see:http://en.tengrinews.kz/emergencies/Ariane-space-ship-wreckage-confirmed-to-come-from-July-launch-Kazakhstan-off-the-253315/
Use of the Tengrinews English materials must be accompanied by a hyperlink to en.Tengrinews.kz
May 4 2014, 10:13