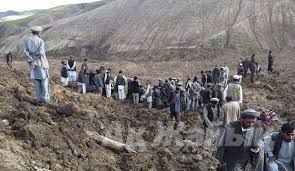 Authorities in northern Afghanistan say more than 2,100 people are confirmed dead after a massive landslide buried parts of a village, euronews.com reports.
"More then 2,100 people from 300 families are all dead," Naweed Forotan, a spokesman for the Badakhshan provincial governor, told Reuters.
People dug with their bare hands to try to find survivors after a section of a mountain collapsed following heavy rain.
Mud crashed down onto hundreds of homes, with rescuers struggling to reach the remote area in the province which borders Tajikistan.
"I ask our Afghan national businessmen, international donors as well as the Afghan government to provide humanitarian assistance," said provincial police chief, Major General Faziluddin Hayar.
The United Nations said the focus was now on the more than 4,000 displaced by Friday's disaster. For those who have survived, the future is uncertain with food, medical care and shelter desperately needed.
President Hamid Karzai has ordered Afghan officials to start emergency relief efforts immediately to reach the village.
NATO-led coalition troops in the region are discussing search and rescue contributions with Afghan forces, the United Nations said.
Officials said earlier there was little hope of finding anyone alive under the mud, given the scale of the disaster.
Meanwhile, local authorities fear further landslides could occur.
May 3 2014, 17:48