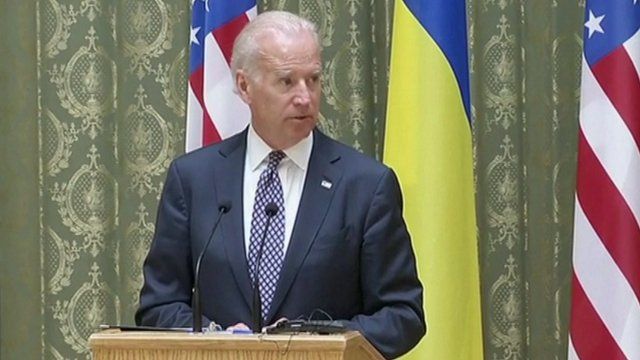 US Vice-President Joe BidenUS Vice-President Joe Biden has said Russia must "stop talking and start acting" to defuse the Ukraine crisis, bbc reports.
He was speaking during a joint press conference in Kiev with interim Prime Minister Arseniy Yatsenyuk.
Mr Biden warned Russia that further "provocative behaviour" would lead to "greater isolation" and urged Moscow to end its alleged support for pro-Russian militants in eastern Ukraine.
Meanwhile, the funerals took place for three men shot on Sunday.
They were killed during a raid on a checkpoint manned by pro-Russian separatists near the town of Sloviansk in eastern Ukraine.
The circumstances remain unclear. The local separatists said the attack was carried out by ultra-nationalist Right Sector militants. Kiev called it a "provocation" staged by Russian special forces.
'Endemic' corruption
Earlier in remarks to Ukrainian MPs, Mr Biden said the US stood with Ukraine's new leaders against "humiliating threats" - an apparent reference to Russia.
Mr Biden said Ukraine also faced "very daunting problems" and stressed the need for the new authorities to tackle corruption, which he described as "endemic in your system".
He told members of parliament: "The opportunity to generate a united Ukraine, getting it right is within your grasp."
Mr Biden announced the US would provide an additional $50m to help Ukraine's government with political and economic reforms.
The White House said President Barack Obama agreed Mr Biden should make the two-day visit to Ukraine's capital to send a high-level signal of support for the reform efforts of Kiev's pro-Western government.
Ukrainegoes to the polls on 25 May in an election seen as a crucial step in ending the country's deepest political crisis since its independence in 1991.
'Men in masks'
On Monday, Russian Foreign Minister Sergei Lavrov accused the Kiev authorities of breaking last week's Geneva accord on resolving the Ukraine crisis.
And in a phone conversation between the US secretary of state and Russia's foreign minister, also on Monday, both sides blamed the other over the crisis.
The 17 April Geneva accord was agreed at talks between Russia, Ukraine, the EU and US. It demanded an immediate end to violence in eastern Ukraine and called on illegal armed groups to surrender their weapons and leave official buildings.
Pro-Russian militants are still holding official buildings in at least nine towns and cities in the Donetsk region of eastern Ukraine.
Mr Biden again accused Russia of supporting "men in masks in unmarked uniforms" who the US says are directing pro-Russian activity in the East.
Moscowdenies being behind the protests and seizures of buildings in the east.
Ukrainesays photos released by the Ukrainian government and distributed by the US State Department show Russian soldiers among militants holding official buildings in eastern Ukraine.
There was no immediate response to the pictures from the Russian government.
However, on Tuesday the Tatar assembly said the leader of the community, Mustafa Dzhemilev, had been banned from returning to the annexed territory for five years.
Mr Dzhemilev was reportedly informed of the ban by Russian border guards as he crossed from Crimea to mainland Ukraine. Russia has given no official explanation.
The 300,000-strong Tatar community - which makes up 15% of Crimea's population - opposed the peninsula's incorporation into Russia last month.
April 22 2014, 17:33