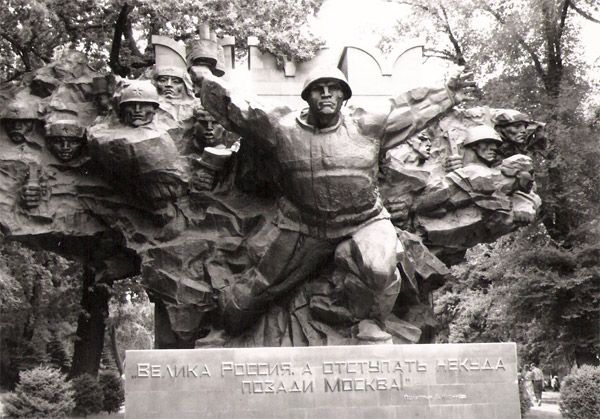 Memorial commemorates the 28 Almaty soldiers of the Panfilov Division who died in WWII battle against Nazi tanks near Moscow.This year Kazakhstan marks the 69th anniversary of Victory in the Great Patriotic War, inform.kz reports.
Kazakhstan citizens were among those who the first minutes of war accepted battle on the western border, and among those who stormed the Reichstag building in Berlin. The Republic sent to the battlefield 12 rifle divisions, 4 national cavalry divisions, 7 rifle brigades including 2 national rifle brigades. In addition, in Kazakhstan about 50 regiments and battalions of various types of troops were formed.

During the war, 500 Kazakhs became Heroes of the Soviet Union, more than 100 - holders of the Order of Glory, 4 of them were twice awarded the title of Hero of the Soviet Union - Talgat Begeldinov, Leonid Beda, Ivan Pavlov and Sergey Luganskiy.

We remember the names Bauyrzhan Momyshuly, Aliya Moldagulova, Manshuk Mametova, Tolegen Toktarov, Nurken Abdirov and other brave heroes of the war. The Republic is proud of fighting affairs of the parts created in its territory and connections of the Soviet Army.

Kazakhstanis battled for Liyepayu, Peremyshl, and the island of Saaremaa, Murmansk, Odessa and Sevastopol. But despite firmness and the courage shown by thousand Soviet soldiers and officers, war developed in the beginning tragically. Since early May, in honor of the Victory in the towns and cities of the Republic of Kazakhstan will be held honoring veterans of the Great Patriotic War.
April 22 2014, 11:47