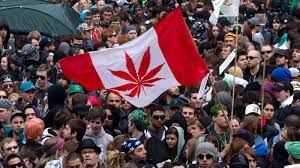 Several thousand people came out in Canada's biggest cities to call for the legalization of marijuana - a yearly protest that happens internationally on April 20, afp.com reports.
The demonstrations -- dubbed the "420" rallies after the date, 4/20 in North American style, and the code-term popularly used to refer to pot consumption -- took place in Vancouver, Montreal and Ottawa.
In each city, including the capital, Ottawa, where protesters gathered on the lawn near the parliament building, music groups played for the crowds.
The atmosphere was similar to the annual 420 festival celebrating marijuana in the US city of Denver, where, for this first time this year, the drug is legal for recreational use.
In Montreal, a strong police presence surrounded the demonstrators, while in Ottawa and Vancouver, a pizza chain offered a free slice to any participant in the rally celebrating a drug known to prompt the munchies.
The code 420 is most often used in North America, attributed to a group of young pot-lovers in the 1970s who met up at 4:20 pm.
Last year, Canada's conservative government opened the door to relaxing the law banning marijuana consumption, suggesting a switch to fines for small-scale possession, as opposed to prosecution in court.
But they did not discuss completely decriminalizing the use of the drug, as has been floated by the Liberal party.
April 21 2014, 09:31