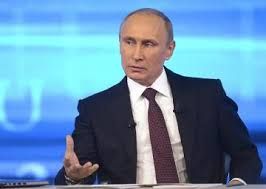 V. PutinRussian President Vladimir Putin said today he hopes Russia will not have to use force in eastern Ukraine, abcnews.go.com reports.
Speaking during a marathon question and answer show on live television, Putin reminded viewers that Russia's upper house of parliament had authorized the use of force in Ukraine.
"I very much hope I will not have to use this right," he said.
Putin denied Western claims that Russian troops are already operating inside Ukraine and that the unrest there has been orchestrated by the Kremlin. He warned that if the situation continues, Russia will not recognize the results of next month's Ukrainian presidential election.
Putin slammed the new government in Kiev for sending troops to quell the unrest in the east. He blamed them for failing to engage the Russian-speaking population there to calm concerns that the new pro-Western government was not out to get them.
"They are sending tanks, armored personnel carriers and cannons there. Who are they sending these tanks against? Are they out of their minds?" he said.
After the show, journalists asked Putin what might cause Russia to send troops in to Ukraine. He declined to say, explaining that it might affect the situation on the ground, according to Russia's Interfax news agency.
For the first time, however, Putin acknowledged that the heavily armed troops with no insignia on their uniforms who suddenly appeared on the streets of Crimea ahead of last month's referendum to join Russia were Russian troops. Those troops, he said, were necessary to prevent exactly the type of chaos that is taking place in eastern Ukraine now.
Western and Ukrainian authorities say Russia fabricated reports of threats to Russian speakers in the region in Crimea to scare the population into vonting to leave Ukraine. Putin, however, said today that those threats were "real and palpable."
He insisted Russia's annexation of Crimea was not planned in advance, but was rather a response to the overwhelming results of the referendum.
"It was highly important for me to see the results of this expression of the people's will," he said.
He appeared to dismiss former Ukrainian President Viktor Yanukovich, who until he was ousted in February, was a Kremlin ally. But said Yanukovich told him that while he thought about ordering the use of force against the protesters who forced him from office, he could not bring himself to do it.
The wide-ranging call-in show lasted nearly four hours as Putin fielded questions from a studio audience of prominent Russians, questions that had been submitted in advance, and questions from Russians appearing live from select cities. In a change from previous years, most of the questions were about Ukraine and Russia's standing in the world, though some villagers across this vast country inquired about the rising costs of bread and compensation for natural disasters.
A 6-year-old girl wrote in to ask Putin if he thought President Obama would save him if he were drowning. Putin replied that, while he did not have a close relationship with Obama, he considered him a good man and thought that Obama would save him.
Asked if he had plans to annex Alaska next, Putin asked rhetorically "What would you need Alaska for?" Russia, he said, already has enough cold territory.
April 17 2014, 20:18