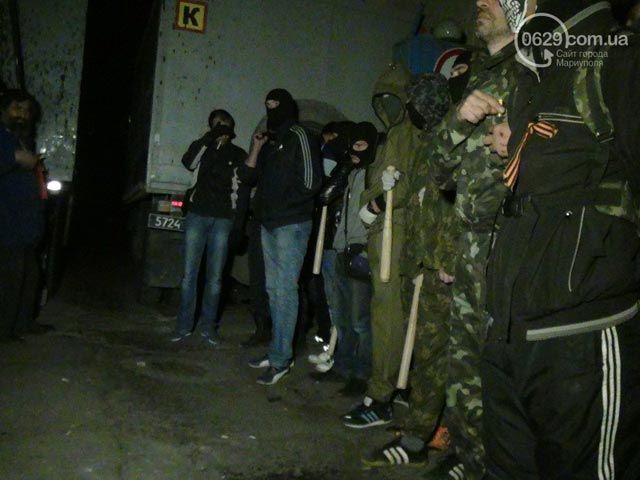 The Donetsk region is currently the main "hot" sport in the esters Ukraine. It has been gripped by anti-Maidan protests since last week, with activists seizing a number of governmental buildings in several cities and towns. Recently administration buildings of Donetsk, Khartsyzsk and Enakievo cities were seized. In Mariupol unknown people tried to storm the military base, but the storm was defeated, azh.zk reports, citing newsru.com.
Local people block the Ukranian military forces that try to access the region to neutralize the rebels. The Ukrainian government suspect that they are financed from abroad.
Interior Minister Arsen Avakov said that in the city of Mariupol three people were killed, thirteen others injured by gunfire in a confrontation between anti-government protesters and National Guard soldiers. Sixty three protesters had been detained.
Local media said the protesters were armed with Molotov cocktails, which they used in the confrontation.
A group of several dozen protesters arrived at the base, located in the turbulent Donetsk region, on Wednesday evening.
They called on the troops to abandon the base, but the soldiers didn't listen, the demonstrators said.
Instead, the troops opened fire at the protesters, injuring at least four people. One of them took a bullet in his chest and is in serious condition, according to protesters.
The crowd retreated after the shooting started. The city's website said that clashes have moved from the base to surrounding areas, adding that single shots can be heard near the local hospital.
Ukraine's security service and Mariupol police conducted a joint operation at around 1 a.m. local time. Law enforcement officers reportedly detained 10 people.
Protester chatter blames unidentified provocateurs for the shooting. Demonstrators say a group of people arrived at the protester-held City Hall of Mariupol and called on people staying there to go to the military base to try to seize it.
Local residents reported military jets flying over the city.
Meanwhile, rebels who earlier seized the city administration of Mariupol reported that they have no relation to capture of military facility and consider it a provocation. The said to Interfax news agency that they didn't authorize such operation. "With probability of 90% we can say that the attempt to storm the military facility was made by visiting people and not the local forces of self-defense. We even don't have those types of arms which they used during the storm of the military facility", - said the rep local rebels.
Thus fighters didn't deny that they have a weapon and declared that in the building of the City Council will remain to the last. "We live in Ukraine, but any more we don't consider ourselves as Ukrainians because we were betrayed by this country", - the unknown man in a camouflage on video which is published on the website "Observer" declared.
April 17 2014, 12:12