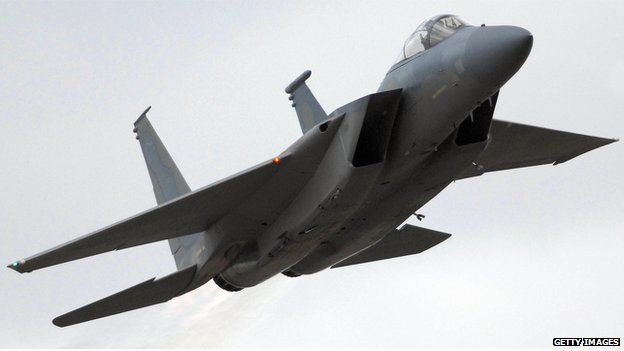 The US Air Force has sent 10 F-15 jets to help Nato boost its military presence in the Baltic states
Moscow is pressing Nato to explain its plans to beef up military presence in Eastern Europe, Russian Foreign Minister Sergei Lavrov has said.

"We not only expect answers, but answers... based fully on respect for the rules we agreed on," he said.

Nato earlier said it would reinforce the alliance's defences in Eastern Europe following Russia's annexation of Crimea from Ukraine.

Nato also halted all civilian and military co-operation with Russia.

Secretary General Anders Fogh Rasmussen said Russia's annexation of Ukraine's Crimea region was the gravest threat to European security for a generation.

At a summit in Brussels, the alliance also expressed concerns over a massive build-up of Russian troops on Ukraine's eastern border, amid fears of invasion.

Moscow is believed to have massed tens of thousands of troops on Ukraine's border.

Nato planners are currently looking at options including situating permanent military bases in the Baltic states to reassure members in Eastern Europe.

Russia's actions in Ukraine have caused concern in Estonia, Latvia and Lithuania - all Nato members which were part of the Soviet Union during the Cold War.

Nato jets will take part in air patrols in the region later in a routine exercise that analysts say has taken on added significance due to the crisis. Several Nato countries, including the UK, US and France, have offered additional military aircraft.

But Mr Lavrov accused Nato of exaggerating the importance of Russian troop movements on the borders of eastern Ukraine.

He said Russia had the right to move troops within its territory and that the forces currently near the border would return to their permanent bases after completing military exercises.
April 3 2014, 14:18