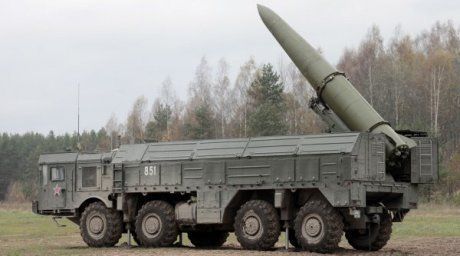 Iskander, mobile theater ballistic missile system. ©RIA NovostiRussia will deploy its missiles at the border with Kazakhstan, tengrinews reports citing Izvestiya. The missiles expected at the border are Iskander mobile theater ballistic missile systems.
These short-range ballistic missiles can be equipped with several different warheads, including a cluster munitions warhead, a fuel-air explosive enhanced-blast warhead, a high explosive-fragmentation warhead, an earth penetrator for bunker busting and an electro-magnetic pulse device for anti-radar missions. The missiles can also carry nuclear warheads.
Russian Federal Agency for Special Construction is planning erect storage facilities for Iskander-M missile systems 100 kilometers away from the Kazakhstan border before the end of this year. Based on its agreements with Kazakhstan, Russia will be able to quickly deploy the short-range missiles to the Kazakhstan territory. Such operations have become possible thanks to the Collective Security Treaty Organization (CSTO) agreements.
Russian Defense Ministry plans to finished construction of pads for Iskander missiles in Totskoye-2 village in Orenburg Oblast by the end of the year. Special Construction Agency confirmed that it is working on the project, but declined to provide any details. Guided Missile Brigade #92 deployed in Totskoye-2 village will be ready to accept the new Iskander-M systems in December 2014. The brigade was transferred to the Kazakh border - from Kamenka in Penzenskaya Oblast to the Orenburg Oblast - in autumn 2012.
A brigade will have 12 launch complexes at its disposal. The Iskander-M operational range makes 500 kilometers and can be increased to 2,000 kilometers by use of P-500 cruise missiles. This means that with the missile systems deployed at the Kazakhstan border the Russian army would be able to target most anything as far as the southern and south-eastern borders of Kazakhstan.
Chief Editor of Moscow Defense Brief Vasily Kashin said that the Central Asian vector is viewed by Russian as the most troublous because of the withdrawal of the Allied Forces from Afghanistan. In his opinion, reduction of the American presence in the area could lead to destabilization in Kyrgyzstan and Uzbekistan. "In this case the forces of the Central Military District of Russia must be ready to close in and help Kazakhstan protect the border, because Kazakhstan's own forces are not very large," Kashin said.
President of Institute of Strategic Assessments, a Russian NGO, Alexandr Konovalov shared the chief editor's opinion. Afghanistan can become engulfed in radical Islam, he said. "And this influence will be spreading beyond the borders of Afghanistan, first of all into the post-Soviet countries of Central Asia. (…) We share common interests with Kazakhstan. And the military equipment, including the Iskanders, will give us a big advantage over the Islamists," the expert said.

For more information see:http://en.tengrinews.kz/military/Russia-to-deploy-Iskander-missiles-at-Kazakhstan-border-252507/
Use of the Tengrinews English materials must be accompanied by a hyperlink to en.Tengrinews.kz
March 28 2014, 19:35