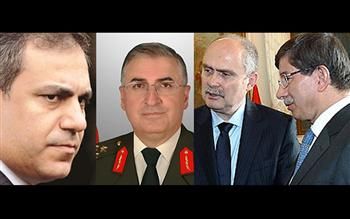 The fresh leak gives yet another headache to the government three days before crucial local polls.A leaked recording has revealed Turkish Foreign Minister Ahmet Davutoglu and Turkish officials discussing a plan to launch a military aggression on Syria in coordination between Turkish intelligence and armed terrorist groups in Syria, sana.sy reports.
An anonymous YouTube account presents the recording as being of intelligence chief Hakan Fidan discussing with Foreign Minister Ahmet Davutoglu, Foreign Ministry Undersecretary Feridun Sinirlioğlu, and Deputy Chief of Staff Yasar Guler and other officials a possible military operation against Syria and, if needed, creating a trumped-up excuse to do so, in coordination between Turkish intelligence and terrorist groups operative in Syria.
The excuse, the recording reveals, might be directing limited military agreed on strikes on the Turkish territories or the tomb of Suleyman Shah in Aleppo countryside.
It can be construed from the recording that Turkey, through its intelligence apparatus, runs and directs several armed groups in Syria that it has so far provided with around 2,000 trailers of military assistance. The leaked audio tape shows Fidan as anticipating several implosions to ensue in Syria after a planned military operation starts because ''the borders are not controlled.''
Qatar is shown to have a role too, as Guler says that "Qatar is looking for ammos too, so let them pay in advance and we can provide them with it.''
The tape reveals Guler and Davutoglu as describing the armed militants in Syria as "an asset we can permanently use."
Also according to the audio tape, Fidan says ''we suggested sending a general to Syria, picked one and he did go there.''
Fidan is revealed in the recording as shrugging off as ''illogical'' a suggestion by Davutoglu to send tanks.
Erdogan's government is orchestrating an unprecedented military aggression against Syria in Kassab border area since last Saturday when Turkish tanks and artillery shelled the Syrian lands to provide a cover for armed terrorist groups to enter Syria from Turley.
Turkey bans YouTube after Syria talk leaked
Turkey has taken down YouTube on Thursday after it was used to spread damaging leaked audio files from a state security meeting that discussed possible military aggression in Syria.
Implicitly owning up to it, Erdogan said that the recording was related to a national security meeting and vowed to "punish" those behind the leaks.
"They have leaked something on YouTube today," he told a campaign rally in the southeastern province of Diyarbakir. "It was a meeting on our national security. It is a vile, cowardly, immoral act. We will go into their caves. Who are you serving by eavesdropping?"
March 28 2014, 14:41