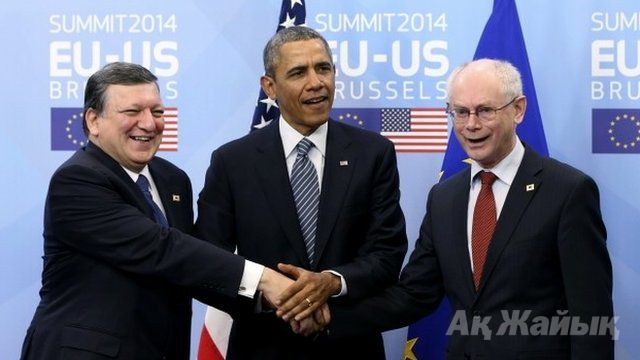 US President Obama gives news briefing on EU talksUS President Barack Obama is in Brussels for talks with leaders of the European Union and Nato to discuss Ukraine and other transatlantic issues, bbc reports.
In a major speech, he is due to stress the importance of European security to the US, and warn Russia against threatening international stability.
He began his visit with a visit to a cemetery in Flanders, where US soldiers killed in World War One are buried.
It is Mr Obama's first official trip to the EU's headquarters in Belgium.
The president flew in on Tuesday evening from the Dutch city of The Hague where he attended a summit on nuclear security with other world leaders.
Security is high in the Belgian capital, with police cordoning off areas near the EU headquarters and Mr Obama's hotel.
'Ripples of anxiety'
The talks will focus on free trade deals and on lingering concern caused by allegations of American spying on EU allies, the BBC's Chris Morris, in Brussels, reports.
But the visit has been overshadowed by the startling speed of events in Crimea.
The southern peninsula was annexed by Russia earlier this month after a referendum which Kiev and the West consider illegal.
As a result, Mr Obama's Brussels agenda is likely to be dominated by discussion of Russia and Ukraine, our correspondent says.
Crimea's annexation and the ripples of anxiety it sent across Eastern Europe served as a reminder that security is at the heart of the transatlantic alliance, he adds.
On Tuesday, Mr Obama said Russia was acting "not out of strength, but out of weakness" in Ukraine. He also warned of the possibility of further sanctions against Russia if it encroached further into Ukraine.
Mr Obama said he was encouraged by the willingness of EU countries to consider tough measures that could possibly hurt them as well. The US has already imposed sanctions on Russian individuals following Crimea's annexation.
Tensions between Russia and Ukraine continue to run high. Moscow accused Ukrainian officials on Wednesday of preventing Russian commercial pilots and crew from disembarking at Kiev International Airport.
Millions spent on security
Ahead of the EU and Nato talks, Mr Obama paid tribute to fallen US soldiers at the American Cemetery and Memorial in Waregem, to mark 100 years since the start of WW1. Belgian King Philippe and Prime Minister Elio di Rupo were also in attendance.
Mr Obama is then scheduled to hold midday talks in Brussels with the presidents of the EU Council and Commission, Herman Van Rompuy and Jose Manuel Barroso.
In the early afternoon, Mr Obama will meet Nato Secretary-General Anders Fogh Rasmussen.
The US president is expected to give his closing speech at 17:00 local time (16:00 GMT).
Some extra 800 police officers have been deployed on Brussels streets for the duration of Mr Obama's visit.
In total, Belgium has spent 10m euros (£8.35m) on increased security.
The US president will stay in Brussels for less than 24 hours before travelling to Rome for a meeting with Pope Francis.
March 26 2014, 18:42