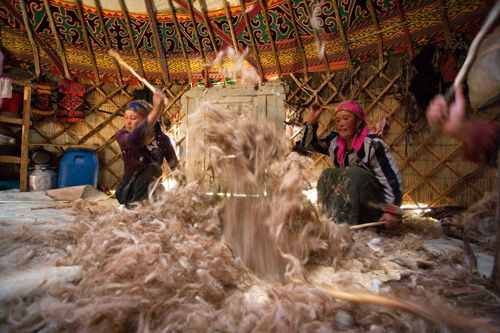 Benetton, Zara and H&M brands will be using Kazakhstan's wool, KazAgro Holding reports.
Kazakhstan-made wool top, a semi-processed product from raw wool, will be used for manufacturing their clothes by the world-known brands such as Benetton, Zara, H&M, Gruppo Marzotto, Fratelli Piacenza S.P.A., Lanerossi, Marchi e fildi S.p.A, the message reads.

Kazakhstan has started its wool top exports to Italy. The first 18 out of a total of 72 tons were already shipped. The total amount of the contract, signed by KazAgroProduct JSC (part of KazAgro Holding) and Italian VICOTEX S.r.I, is USD 598,000. The rest of 54 tons will be delivered to foreign partners soon.

Kazakhstani company plans to conclude more contracts up to 140 tons of wool top and does not rule out the possibility to bring the processed products export up to 500 tons a year.
March 19 2014, 11:07