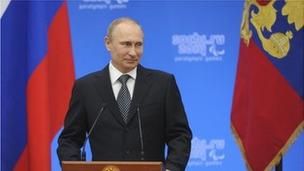 Putin moves towards annexing CrimeaRussian President Vladimir Putin has informed parliament formally of Crimea's request to join the country, the first legislative step towards absorbing the peninsula, bbc reports.
Mr Putin, who signed an order on Monday recognising Crimean independence, also approved a draft bill on the accession.
It comes after a referendum on Sunday in which Crimean officials say 97% of voters backed splitting from Ukraine.
The EU and US have declared the vote illegal and imposed sanctions.
Travel bans and asset freezes have been imposed on government officials and other figures in Russia, Crimea and Ukraine.
Pro-Russian forces have been on the streets of Crimea since late February, though Moscow denies they are under its direct control.
But the West and the Ukrainian government in Kiev say the referendum - called by Crimea's pro-Russian parliament in early March - was carried out in haste and under military occupation.
Voters were asked to choose between joining Russia or having greater autonomy within Ukraine. There was no option for those who wanted the constitutional arrangements to remain unchanged.
Many among Crimea's ethnic Ukrainians and Tatars - about a third of the population - had said they would boycott the vote. The election process was widely criticised by Western leaders.
Ratification
Mr Putin is due to address both houses of the Russian parliament in a special session at 15:00 local time (11:00 GMT). A delegation of Crimea's new leaders is also expected to attend.
Russian news website Gazeta.ru, quoting sources, says that after the speech, President Putin and the speaker of the Crimean parliament, Vladimir Konstantinov, are expected to sign an agreement on Crimea's "entry into the Russian Federation".
Having approved the draft bill, Mr Putin has told MPs "to consider it practical to sign the agreement at the highest level," Russia's Interfax news agency reports.
Once signed, the bill must be approved by the constitutional court and then ratified by parliament. The process is expected to be completed this week.
Crimea was transferred from Russia to Ukraine while under Soviet rule in 1954 and much of its population is ethnic Russian. Thousands celebrated the results of the referendum on Sunday.
The peninsula was taken over by pro-Russian forces in late February after Ukraine's pro-Moscow President Viktor Yanukovych fled to Russia following months of protests.
While the Kremlin denies the armed men are Russian soldiers, it has conceded that MPs authorised the use of force after a formal plea for help from Mr Yanukovych.
Sanctions
On Monday, the EU and US published separate lists of sanctions in response to Moscow's intervention.
The US list includes Dmitry Rogozin, a Russian deputy prime minister, Valentina Matviyenko, head of the upper house of the Russian parliament, and Mr Yanukovych. Two of Mr Putin's aides, Vladislav Surkov and Sergei Glazyev, are also targeted.
The EU list includes Alexsandr Vitko, commander of Russia's Black Sea Fleet which is based in Crimea.
Both lists include Crimea's acting leader, Sergei Aksyonov, and speaker Mr Konstantinov.
Japan has also announced a set of measures "to punish Russia for intervening in Ukraine", Kyodo news agency reported.
EU foreign policy chief Catherine Ashton said those targeted by sanctions were responsible for threatening Ukraine's territorial integrity and independence.
But she said there was still time to avoid "a negative spiral" in the situation, urging Russia to withdraw its forces from Crimea.
UN Secretary General Ban Ki-moon said he was "deeply disappointed and concerned" by Sunday's referendum in Crimea.
But the BBC's Richard Galpin in Moscow says Mr Putin seems intent on pushing ahead very quickly with the annexation of Crimea, despite the sanctions and condemnation.
March 18 2014, 13:33