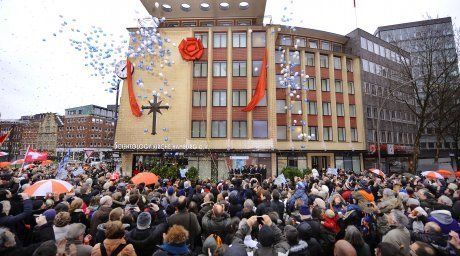 Scientology church. Photo courtesy of scientology.ru
Scientologists's activities may be banned in Kazakhstan, Tengrinews.kz reports citing the press-service of Kazakhstan Agency for Religious Affairs.
"Based on the foundation documents of Almaty Scientology Church and Medeu Scientology Church, Kazakhstan Agency for Religious Affairs submitted a negative statements to the justice authorities following a religious expert check," the press-service writes.

According to the press-service, Kazakhstan Justice Ministry will take the final decision on banning or permitting the activities of these religious institutions. The terms of resolutions on such issues are normally three days.

Kazakhstan has just finished re-registration of all the religious institutions in the county that slashed their number by one third. Besides, the classification of Kazakhstan's confessions was improved. This allowed to define their exact number: not 46 but 17. 16 out of 48 non-traditional organizations have been re-registered. The remaining 32 will be liquidated in court based on statements of Kazakhstan Justice Ministry.
tengrinews.kz
October 28 2012, 14:38