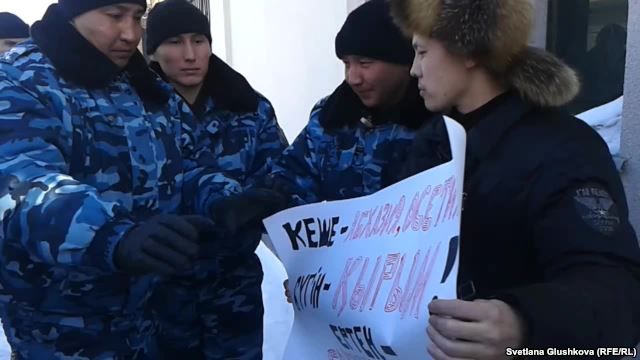 Kazakh police speak with Makhambet Abzhan (right) outside the Russian Embassy in Astana.A Kazakh activist has been sentenced to seven days in jail for taking part in a pro-Ukrainian protest., rferl.org reports.

Makhambet Abzhan told RFE/RL by phone that a court in Astana found him guilty on March 11 of taking part in an unsanctioned protest last week in front of the Russian Embassy.

Abzhan was one of about a dozen protesters who picketed the Russian Embassy on March 3 against Russia's occupation of Ukraine's Autonomous Republic of Crimea.

Abzhan was holding a poster saying, "Yesterday, Abkhazia and South Ossetia; Today, Crimea; Tomorrow, Northern Kazakhstan."
March 17 2014, 11:33