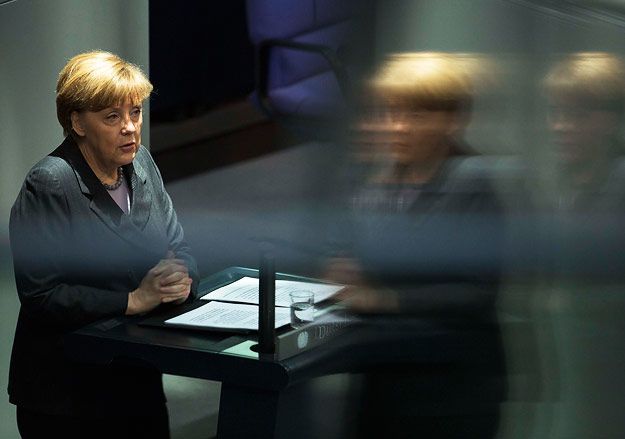 Angela Merkel. Photo:APGerman chancellor Angela Merkel on Thursday accused Russia of resorting to "the law of the jungle" in the Crimea crisis, in a tough speech to parliament in which she warned that the EU would go ahead with its planned sanctions unless Moscow changed course, ft.com reports.
In the strongest language she has ever employed in her dealings with Russia, Ms Merkel said: "If Russia continues with its policy in the next weeks, it would not only be a catastrophe for Ukraine but also we, the neighbouring states, would understand this as a threat to us.
"It would not only change the relations of the EU to Russia but, last and not least, and I am very convinced of this, it would massively harm Russia economically and politically."
The chancellor's words were clearly designed to emphasise Berlin's resolve to Russia's President Vladimir Putin and to bolster German public support for sanctions against Russia, including measures that would hurt German companies.
Russia warned on Thursday that it would respond with like-for-like measures to any sanctions imposed on it.
"We are prepared for any development, and are working out all options, but we hope that this will be concrete political sanctions and not broad trade and economic sanctions," Interfax quoted Alexey Likhaev, deputy economy minister, as saying. The Russian government would "act symmetrically" in response to any sanctions by the EU and the US, he reportedly said.
German public opinion is wary of being tough on Russia while German businesses involved in Russia have lobbied hard against painting Mr Putin into a corner.
Germans are far from convinced about the merits of sanctions. According to a poll published on Thursday by the Handelsblatt newspaper's website, 69 per cent of those asked said sanctions would not help solve the crisis, while only 24 per cent thought they might. The poll was carried out by the Forsa agency for the German-Russian foreign trade chamber.
The German business lobby delivered its most recent salvo on Wednesday. Anton Börner, president of the BGA, a trade association, urged western leaders not to "paint Mr Putin into a corner", and warned of the potential impact of the crisis on Germany, where 6,200 German companies did business with Russia, on financial markets and the world economy.
In parliament on Thursday, Ms Merkel warned that the EU would stick to its three-stage sanctions plan. Having already suspended co-operation talks with Russia, EU ministers are due to meet on Monday, the day after the Crimean secession referendum, to consider the next stage, including visa bans, asset freezes and the suspension of the next EU-Russia summit. Ms Merkel warned they would go ahead with these measures unless Russia agreed to negotiations "in the next few days".
If Russia escalated the crisis further, including in eastern Ukraine, the EU would impose further economic sanctions, she said. "None of us wishes that it should come to such actions. But we were all ready for them and will decide on them, if they are unavoidable."
The chancellor said: "In a period of great uncertainty in Ukraine, Russia has not proven to be a partner for stability in a neighbouring country to which it is historically, culturally and economically closely related, but [instead] it exploits its weaknesses."
Moscow had acted illegally, using the methods of the 19th and 20th centuries, she said. "The law of the jungle is placed against the strength of the law, unilateral geopolitical concerns against understanding and co-operation."
She added: "The clock cannot be turned back. Conflicts of interest in the middle of Europe in the 21st century can be successfully overcome only if we don't fall back on the patterns of the 19th and 20th centuries."
Ms Merkel made clear that the crisis must be solved in a "political and diplomatic" way and absolutely ruled out military intervention. She said countries could develop their "geopolitical strengths" through "the political means of our times".
"All of us in the EU and in the world, including Russia, will see far more opportunities than risks by following this path."
Ms Merkel's tough line follows days of intense debate in Berlin, and between Berlin and its EU allies, over possible sanctions against Russia. It also comes after a concerted push by Frank-Walter Steinmeier, foreign minister, for Germany to play a more active role in world affairs. He urged replacing a traditional "culture of restraint" with a new "culture of engagement".
When he spoke in January, nobody expected that Berlin's resolve would be so quickly put to the test. Ms Merkel initially said little in the policy debate but when the Crimean crisis erupted, she quickly became the main contact point for EU conversations with Mr Putin. As it emerged that Mr Putin would not quickly back down, her approach has become tougher, with pledges for German support for possible sanctions coming despite the misgivings of the public, of business and of the opposition Linke party.
Speaking to parliament immediately after Ms Merkel, Gregor Gysi, the Linke parliamentary leader, delivered a stinging criticism of western policy in eastern Europe in attacking Russian interests over decades: "Everything that Nato and the EU could have done wrong, they did wrong."
Presenting Ukraine with an either/or choice between the west and Russia was a failure of both sides, he said.
March 13 2014, 19:27